WAYNE S. MCCORD, LCDR, USN
From USNA Virtual Memorial Hall
Lucky Bag
From the 1948-A Lucky Bag: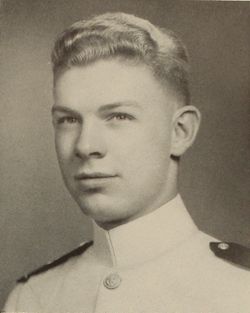 Wayne Smith McCord

Wiggins, Colorado

Hailing from the wilds of Colorado, Mac brought to the Academy a love of the West and the mind of a savoir, which enabled him to label every course as fruit. In the same package was a sense of humor which soon made him the leading contender in any battle of wit and an appetite that was a horror to anyone fortunate to receive a box from the folks. Dragging and sports constituted the bulk of his extracurricular interests, but a prospective bridge or pinochle game could always count on his sup- port. Mac will be an answer to a skipper's dream and a welcome addition to any wardroom.
Wayne commanded 8th Company (1st set) and was a member of the Mechanical Engineering Club. He graduated with the class of 1948-A, the last of the wartime-accelerated classes, in June 1947. (The bottom half of the class by academic standing, designated 1948-B, completed an extra year and graduated in June 1948.)
Loss
From The Enterprise (Lexington Park, MD) on March 21, 1963:
A Naval Air Test Center test pilot was stili missing Wednesday following the crash of his Grumman A6A "Intruder" aircraft in about 30 feet of water off the northwestern tip of Smith Island in Chesapeake Bay Monday afternoon.

Although rescue operations were started immediately after the plane was discovered Monday, no trace of the pilot has been found. The Navy had crash and diving boats and a floating crane at the scene in an attempt to pull the plane from the muddy bottom.

The pilot was identified as Lt. Cdr. Wayne S. McCord, 6, of Auburn, Washington. Cdr. McCord lived with his wife and their three children at 311 MirField Lane, Lexington Park.

A Navy spokesman said the plane took off from the Test Center at 10:55 a.m. Monday on a two hour routine test flight. When the plane failed to return within the allotted time, Naval Air Station search-and-rescue Aircraft began an extensive search of the area where the plane was working.

…
Wayne was lost on March 18, 1963 when his A-6A crashed during flight testing. There were no other crew aboard; he was flying from Patuxent River Naval Air Station. He is buried at Arlington National Cemetery.
Other
Wayne graduated the Naval War College on June 14, 1961.