BILLY G. PIERCE, ENS, USN
From USNA Virtual Memorial Hall
Birthdate & Date of Loss
| | |
| --- | --- |
| Date of birth: | September 1, 1927 |
| Date of death: | July 30, 1952 |
| Age: | 24 |
Lucky Bag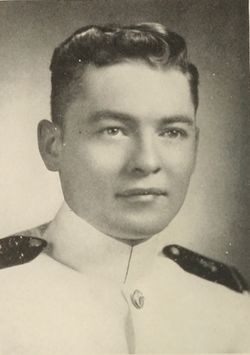 From the 1951 Lucky Bag:
Billy Gene Pierce

Joplin, Mississippi

The dust still hasn't settled in Joplin since this truncated terror left town for bigger fields . . . a chopped-down version of Charles Atlas, with a pleasant smile and an easy-going manner . . . managed to cudgel his way through skinny and steam, going on to bigger accomplishments on the squash courts and dance floors . . . a keen, cold mind makes him unbeatable around a card table, a spot he can often be found in when not working out on the mattress and pillow . . . a real gourmet, he knows that Mom is still the greatest little chef in captivity . . . two years in the fleet as a fire-controlman gave him experience and background for a long career . . . a great man at a party and even better in a tight spot.
He was also a member of the 6th Battalion staff and of the "House Library Committee."
Life & Loss
Unable to find any information about Billy's life or loss. He is buried in Missouri.