JOHN W. COOPER, 2LT, USAF
From USNA Virtual Memorial Hall
Birthdate & Date of Loss
| | |
| --- | --- |
| Date of birth: | November 20, 1928 |
| Date of death: | August 17, 1952 |
| Age: | 23 |
Lucky Bag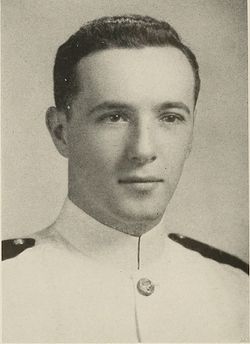 From the 1951 Lucky Bag:
John Watson Cooper

Robbinsdale, Minnesota

"Coop" came to Navy Tech very early in our Plebe Summer from Bobbinsdale, Minn., one of Minneapolis's suburbs ... he is popular with his fellow classmates and is noted for his constantly happy countenance . . . Coop's interests are many but chiefly he is interested in good books (particularly histories) and is an avid admirer of classical music ... his interest in nature and birds made him one of those early Sunday morning risers that took excursions into the wilds of Maryland . . . this is a carry-over of his Eagle Scouting which he left behind when he gave up civilian life . . . there is no doubt that "Coop" will succeed out in the fleet ... he will go a long way.
Loss
Coop was lost when his T-33 jet trainer crashed in a thunderstorm near Centralia, Kansas, on August 18, 1952. He is buried in Minnesota.