CHARLES W. FRYER, LT, USN
From USNA Virtual Memorial Hall
Date of birth: September 1, 1939
Date of death: August 7, 1966
Age: 26
Lucky Bag
From the 1962 Lucky Bag: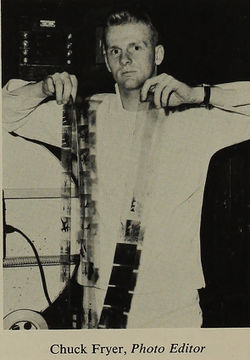 Loss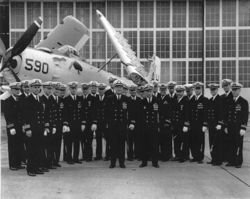 Chuck was killed when his A-1H Skyraider was shot down by small arms fire over North Vietnam on August 7, 1966, while attacking a train near Qui Vinh. He was a member of Attack Squadron 152 (VA-152) flying from USS Oriskany (CVA 34).
Shipmate
From the October 1966 issue of Shipmate:
Lt. Charles W. Fryer, USN, was killed in action off the coast of Vietnam on 7 Aug., when his plane was struck by enemy ground fire during a reconnaissance mission off USS ORISKANY. Memorial services were held for the family on the 9th, and aboard ship on the 14th.

Lt Fryer, who was born in Oklahoma City, Okla., attended Westminster College at Fulton, Mo., before entering the Naval Academy, from where he was graduated in 1962. He served as electronics material officer and anti-submarine warfare officer in USS SOLEY in the Mediterranean, then entered flight training at Pensacola. He received his wings in May 1965 and was assigned to Attack Squadron 122 at the Naval Air Station, Lemoore, then to Attack Squadron 152 in September 1965.

He is survived by his parents, Dr. and Mrs. Samuel R. Fryer of 1912 North West 18th St., Oklahoma City; a brother, Samuel R., Jr., and a sister, Susan Lee Fryer.
From the same issue's Class of 1962 column:
He was a great classmate and a fine officer. He will be remembered and missed by all who knew him.
Remembrances
From Wall of Faces:
Dearest Charlie, Thank you for caring about us. We will never forget you and you will be forever in our hearts. Until we meet again..We appreciate and love you. Diane & Terri DIANE MURPHY FARLEY & TERRI FARLEY KUMP, TERRI-KUMP@CHARTER.NET, 5/17/13
Related Articles
Lucius Heiskell '62 was also in 5th Company.
Richard Whitney '62 and Cyrus Roberts, IV '62 were also members of the Lucky Bag staff.
Charles is one of 30 members of the Class of 1962 on Virtual Memorial Hall.