DANIEL R. SEIDELL, ENS, USN
From USNA Virtual Memorial Hall
Birthdate & Date of Loss
| | |
| --- | --- |
| Date of birth: | September 16, 1920 |
| Date of death: | March 22, 1943 |
| Age: | 22 |
Lucky Bag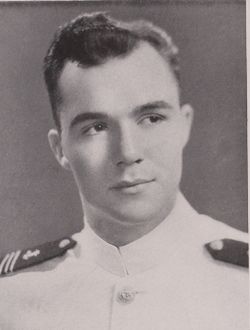 From the 1943 Lucky Bag:
DANIEL RYAN SEIDELL

Des Moines, Iowa

Before becoming ensnared in our routine, Dan was a gentlemanly playboy with one glorious year at Iowa State. Plebe year Dan was the athletic boy, but after that dragging interfered, and the battalion teams received another member. Football, basketball, and lacrosse were his favorites. Besides athletics "Doc's" favorite pastimes were "shooting the breeze," reading, and movies. In his reminiscent moods he dreamed of sheep ranches and Buick convertibles, but when necessary he was serious and easily overcame the academic obstacles. His cheerful nature and aggressive spirit has won him high esteem among his classmates.
The Class of 1943 was graduated in June 1942 due to World War II. The entirety of 2nd class (junior) year was removed from the curriculum.
Loss
Dan was lost when USS Amberjack (SS 219) was sunk by a patrol craft on February 16, 1943 near Rabaul.
He has a memory marker in Iowa; he was survived by his parents and his sister.
Related Articles
James Lewellyn '43 was also lost aboard USS Amberjack (SS 219).