JAMES D. UNGER, LTJG, USN
From USNA Virtual Memorial Hall
Birthdate & Date of Loss
| | |
| --- | --- |
| Date of birth: | September 15, 1919 |
| Date of death: | June 12, 1943 |
| Age: | 23 |
Lucky Bag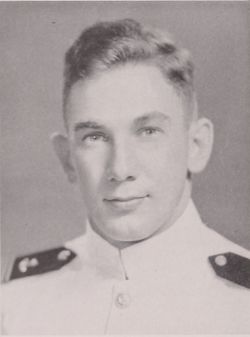 From the 1943 Lucky Bag:
JAMES DONALD UNGER

Long Branch, New Jersey

Jim came to the academy already a seasoned sailor from the fleet, with a true love for the sea in his heart, and the ambition to become an officer foremost in mind. He is a man any commanding officer would like to have on board his ship. When work was to be accomplished, he gave it all he had, and when it was time to play he was always ready for action. An all around athlete of no mean ability, he derived most enjoyment from swimming, lacrosse, and wrestling. His pleasing personality has won him many friends at the academy, and we are sure it will continue to do so after he is out in the fleet, this time an ensign.
The Class of 1943 was graduated in June 1942 due to World War II. The entirety of 2nd class (junior) year was removed from the curriculum.
Loss
From Find A Grave:
Lieutenant JG. Unger was killed when shortly after noon on 12 June 1943, R-12 while underway to conduct a torpedo practice approach, sounded her last diving alarm. As R-12 completed preparations to dive, the forward battery compartment began to flood. The collision alarm was sounded and a report was made that the forward battery compartment was flooding. Orders were given to blow main ballast, but the sea was faster. In about 15 seconds, R-12 was lost. The commanding officer, one other officer, and three enlisted men were swept from the bridge as the boat sank and were rescued. Forty-two lives were lost. R-12 was stricken from the Naval Vessel Register on 6 July.
The boat went down near Key West, Florida. A documentary movie was made about her, and her discovery, in January 2017.
His wife was listed as next of kin.