EARLE W. F. CHILDS, LT, USN
From USNA Virtual Memorial Hall
Date of birth: August 1, 1893
Date of death: March 2, 1918
Age: 24
Lucky Bag
From the 1915 Lucky Bag:
Biography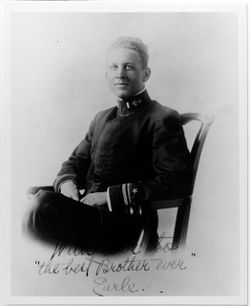 From Wikipedia:
Born in Philadelphia, Pennsylvania, Childs was a member of the Naval Academy class of 1915.

He was married to Miss Gertrude Boucher on June 27, 1917. He attended his wedding with his head bandaged from an auto accident he was in that morning while driving in a storm and he was cut by flying glass from the windshield.

After graduation from the Naval Academy, as an ensign, was assigned to the USS Culgoa, a refrigerated supply ship. He was next assigned to the USS Celtic, another refrigerated supply ship. He then was detached from Celtic in June 1916 to the battleship USS Montana.

As a lieutenant, he served in World War I in the submarine L-2. On board the British submarine HMS H5 as an observer, Lieutenant Childs was lost when H5 sank with all hands after a collision with a merchantman off the English coast.
Earle was also survived by a son, USNA '40, who was a Lieutenant aboard a torpedo boat when it was bombed in WWII. The attack wounded him and caused the loss of his right leg—25 years to the day after his father was killed. This also began a truly incredible ordeal to treat and ultimately evacuate him; he was taken by multiple ships, jeeps, and aircraft via Guadalcanal. He nearly died several times, and at one point two years later weighed only 85 pounds. (Information from August 1964 issue of Shipmate.)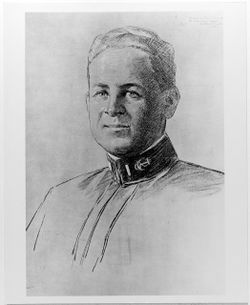 From Hall of Valor:
The President of the United States of America takes pride in presenting the Navy Cross (Posthumously) to Lieutenant Earle Wayne Freed Childs, United States Navy, for exceptionally meritorious and distinguished service while serving as an Observer on board the British Submarine H.M.S. H-5, engaged in the important, exacting and hazardous submarine duty in the War Zone, during World War I.

Service: Navy
Division: H.M.S. H-5

Namesake
USS Childs (DD 241) was named for Earle; the ship was sponsored by his widow.
Earle is one of 18 members of the Class of 1915 on Virtual Memorial Hall.