EARL D. HACKMAN, JR., LT, USN
From USNA Virtual Memorial Hall
Birthdate & Date of Loss
| | |
| --- | --- |
| Date of birth: | October 10, 1919 |
| Date of death: | August 6, 1945 |
| Age: | 25 |
Lucky Bag
From the 1943 Lucky Bag:
EARL DRISSEL HACKMAN, JR.

Landsdale, Pennsylvania

Who's that little chatterbox,
The one who's lost his curly locks?
Who could it be but little E. D.

Aside from his picturesque and terrific gift of gab, we found in Earl an infinite amount of energy which he expended in doing worthy things as well as diabolical pranks. Crowded in this short scoundrel we found a keen sense of humor—continuously sprouting out to the amusement and enjoyment of everyone. He always had a word of encouragement on his lips that was backed up by the sincere look in his huge round eyes. Hack will be remembered by all who came within the bounds of his friendship.
The Class of 1943 was graduated in June 1942 due to World War II. The entirety of 2nd class (junior) year was removed from the curriculum.
Loss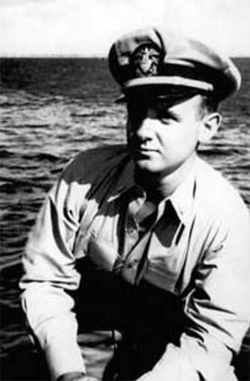 Earl was lost when USS Bullhead (SS 332) was sunk, probably by Japanese aircraft, on or around August 6, 1945, in the Java Sea. One site lists him as the Executive Officer of the boat.
His wife was listed as next of kin.