GARDNER BREWER, MAJ, USAF
From USNA Virtual Memorial Hall
Lucky Bag
From the 1957 Lucky Bag:
Loss
Edited heavily for readability, from The Wall:
Major Gardner Brewer was from Melrose, Massachusetts and was born on 16, May 1934. He was 33 and married when he died. Major Brewer was call-signed "Togo" and was a Forward Air Controller assigned to the 20th Tactical Air Support Squadron at Da Nang. He was returning from a mission in an O-2A when he was shot down by ground fire seven miles northeast of Quang Ngai, in Quang Tin Province, South Vietnam. Major Brewer had 10 years of service after graduation from the Naval Academy and served 65 days in combat. His body was recovered and his name is located at 26E 069 on the Vietnam Memorial.
Obituary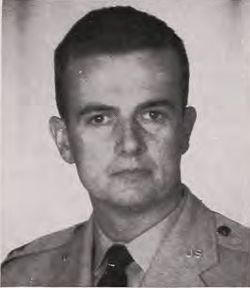 From the December 1967 issue of Shipmate:
Maj. Gardner Brewer, USAF, a pilot attached to the 20th Tactical Air Support Squadron, was killed in action during an operational mission over South Vietnam on 14 Sept. Interment was in Arlington National Cemetery with full military honors.

Major Brewer was born in Salem, Mass. He attended Dartmouth College for one year and was graduated from the Naval Academy in 1957. He also held a Master's degree from the University of Southern California. He had served in Wiesbaden, Germany, for three and a half years before going to the Far East, and while in Wiesbaden he was awarded the Air Force Commendation Medal for outstanding service. He arrived in Vietnam on 12 July of this year and had been working as forward air controller with the Korean Marines south of Da Nang.

Surviving are his widow, Nancy Weeks Brewer of 78 First Street, Melrose, Ma. 02176; three children, Jennifer R. 8; Peter 7, and Suzanne 4; his parents, Mr. and Mrs. Harold C. Brewer of 97 Locksley Road, Lynnfield, Ma. 01940; two sisters, Mrs. John Macklin of Stoneham and Mrs. Maurice Maynard of Billerica, Mass., and a grandmother, Mrs. Frank Hardy of South Waterford, Me.
From Find A Grave:
Gard Brewer, a native of Melrose, Massachusetts, graduated from the U.S. Naval Academy in 1957 and chose to enter the U.S. Air Force upon commissioning in June, 1957. Gard, my roommate at Navy, was the tall, strong, quiet type. He excelled in intramural soccer, football, and track, and was always ready to help any of us, no matter what our problem. We held up our swords as he and his bride Nancy left the Naval Academy chapel at their June wedding. Tragically, 10 years later Gard lost his life in Vietnam. He was a Forward Air Controller, flying a small Cessna O-2 at low altitude to spot enemy targets and mark their location for subsequent attacks. He was shot down by ground fire 7 miles northeast of Quang Ngai, Quang Tri province as he was returning to his base at Da Nang. His body was recovered and now rests in Arlington National Cemetery with other heroes of our country's conflicts-Section 13, grave 10027-A. His name is inscribed on the Vietnam Memorial Wall, panel 26E, row 069. Unclear; likely Frank Parker
Distinguished Flying Cross
Gardner's mother reported to the Class of 1957 secretary that he had been posthumously awarded the Distinguished Flying Cross. (Information from February 1969 issue of Shipmate.)
Related Articles
Alfred Senior '57, Redmond Jensen '57, and John Worrell '57 were also in 8th Company.
Gardner is one of 38 members of the Class of 1957 on Virtual Memorial Hall.