ALFRED E. SENIOR, JR., LTJG, USN
From USNA Virtual Memorial Hall
Lucky Bag
From the 1957 Lucky Bag:
Loss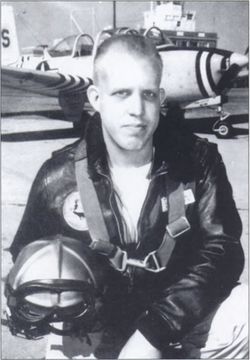 Alfred was lost on August 5, 1959 when the S2F Tracker he was aboard crashed into the Mediterranean Sea while attempting to land aboard USS Champlain (CV 39). He was the copilot.
He has a memory marker in New Jersey.
Related Articles
Gardner Brewer '57, Redmond Jensen '57, and John Worrell '57 were also in 8th Company.
Alfred is one of 38 members of the Class of 1957 on Virtual Memorial Hall.