HAROLD F. HICKS, JR., CDR, USN
From USNA Virtual Memorial Hall
Lucky Bag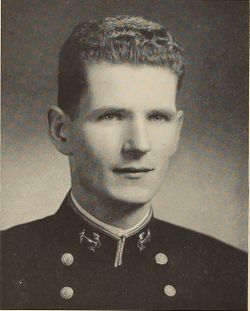 From the 1952 Lucky Bag:
Harold J. Hicks, Jr.

Long Beach, California

Harry entered the Academy after establishing brilliant academic records in high school, college, and Naval ET School. Although his relentless mind hindered his sleep, it produced 4.0's and gave momentum in the Chess Club and debating teams while his legs maintained that same momentum in his year around track efforts. He also enjoyed working with the electronics club and Trident, adding smiles and life to his activities. Harry's many and varied interests narrowed when it came to women; his hashmark OAO claimed all his attention and his miniature. Harry is bound for success in the Fleet.
He was also a member of the 2nd Regimental staff (3rd set), 13th Company staff (2nd set), the Wardroom Panel, and a recipient of an "E Award."
Loss
Harry was lost when his A-6A Intruder crashed shortly after taking off from USS Independence (CVA 62) on August 16, 1966. His bombardier/navigator was also lost.
His body was not recovered; unable to find a memory marker.
Related Articles
Robert Allison '52 was also a member of the Wardroom Panel.
Michael Moushey '52 was also a member of the 2nd Regimental staff and on the 13th Company staff.
Michael Zibilich '52 was also in the chess club.