HAROLD F. HICKS, JR., CDR, USN
From USNA Virtual Memorial Hall
Lucky Bag
From the 1952 Lucky Bag:
Loss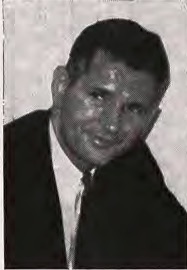 Harry was lost when his A-6A Intruder crashed shortly after taking off from USS Independence (CVA 62) on August 16, 1966. His bombardier/navigator was also lost.
From the January 1967 issue of Shipmate:
Cdr. Harold F. Hicks, USN, died on 16 Aug. in an aircraft accident off USS INDEPENDENCE in the Western Mediterranean. A naval aviator, he was serving as executive officer of Attack Squad- ron 75 at the time of the night catapult launch accident.

Cdr. Hicks was born in NewYork City,and served in the U. S. Navy in the China Station before his appointment to the Naval Academy; he was graduated with the class of 1952. He served in USS SICILY in Korean waters; completed flight training at Pensacola in 1954, followed by advanced training at Corpus Christi, Tex. He was personnel officer in USS Oriskany, then served as operations officer in VF-94, and as an aviator in USS Hornet and USS Yorktown.

He returned to the Naval Academy in 1958 for a three-year assignment as an instructor in the English, History and Government department, during which time he was a graduate student at Georgetown University, where he received a Master's degree. He also studied at Oxford University in England. He was communications officer in USS Independence during the Cuban crisis, and on the staff Commadner Carrier Division Six, followed by duty as operations officer in VA-66, and as an aviator in USS America. He joined VA-75 last July.

Among his awards were the China Service, Philippine Liberation, Natal Defense (1 star), Korean Service (1 star), Cuban Expeditionary Medals, and the Korean Presidential Unit Citation. He was a member of the American Historical Association.

He is survived by his widow Christina, and four children, Harold F., Mary C., Sheila A. and Brian E. Hicks; and his mother.
His body was not recovered; unable to find a memory marker.
Related Articles
Robert Allison '52 was also a member of the Wardroom Panel.
Michael Moushey '52 was also a member of the 2nd Regimental staff and on the 13th Company staff.
Michael Zibilich '52 was also in the chess club.
Harold is one of 50 members of the Class of 1952 on Virtual Memorial Hall.