JAMES W. WILLS, JR., CAPT, USAF
From USNA Virtual Memorial Hall
Birthdate & Date of Loss
| | |
| --- | --- |
| Date of birth: | June 24, 1927 |
| Date of death: | April 12, 1953 |
| Age: | 25 |
Lucky Bag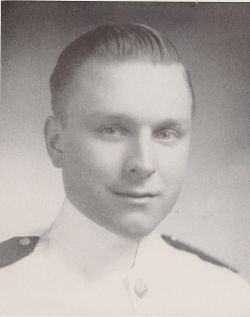 From the 1950 Lucky Bag:
JAMES WASHINGTON WILLS, JR.

La Plata, Maryland

If there is any chance of a party going on in the vicinity, one will always find easygoing Jim either instigating or else playing an important role in the general proceedings. When Jim first saw the light of day, it was not merely sunlight but also Dame Fortune smiling down upon him. Active in sports year 'round, we will remember the Golden Toe for his unin- terrupted string of extra points during the fall season. In the winter you will find him in the squash courts practicing his back hand for the coming spring. This is when Jim really comes into the limelight. As an important member of the Ten- nis Team we will remember Jim for his never-ceasing will to win.
Loss
From Find A Grave:
USNA Class of 1950, Captain Wills was the pilot of a F-84E Thunderjet fighter with Headquarters Squadron, 49th Fighter-Bomber Group. On April 12, 1953, while on a combat mission, after completing a bomb run, his aircraft crashed. His remains were not recovered.

Awarded: Distinguished Flying Cross, Purple Heart, Air Medal,National Defense Service Medal,Korean Service Medal, Republic of Korea Presidential Unit Citation, United Nations Service Medal, Republic of Korea War Service Medal
Operational Swrunary No. 102 from the 64 Soviet IAK in Andung to Moscow for April 12, 19S3 states, "at 1604. 8 MiG-ISs from the 913th lAP (led by Captain Semenov), flying in the Bikhen region at 500m altitude, engaged 4 F-84s. 1 pilot, Captain Semenov, fired and shot down 1 F-84 at a distance of 800m on the target's rear aspect."

According to USAF records, F-84 (No. 51-4854) pilot ILt. James Washington Wills, Jr. (20408 AF), went into a shallow bomb run on April 12, 1953. After approximately two seconds of the explosion of the bomb released by Wills, a second explosion was observed approximately 2000 feet ahead of the bomb burst. A search of the area revealed burning wreckage of what appeared to be a crashed airplane. No parachute or sign of life was observed.

…

Conclusion: … Soviet records appear to be consistent with the loss of 1Lt. James W. Wills Jr. Wills who is carried as BNR in the Battle Monuments list and MIA in CILHI records. There was no report by wingmen flying with Wills. however, of enemy aircraft activity.
Related Articles
James Bowers '50, Hamilton McDowell, Jr. '50, Wilbur Spradling, Jr. '50, Edward Hotz, Jr. '50, Cedric Peterson, Jr. '50, Lorenzo Daleo '50, George Duncan, Jr. '50, and Christopher Braybrooke '50 were also graduated from pilot training class 51-E, Williams AFB, Arizona, on August 4, 1951. (Sixty-seven Naval Academy graduates completed this class.)