CEDRIC A. PETERSON, JR., 1LT, USAF
From USNA Virtual Memorial Hall
Birthdate & Date of Loss
| | |
| --- | --- |
| Date of birth: | September 25, 1926 |
| Date of death: | December 7, 1953 |
| Age: | 27 |
Lucky Bag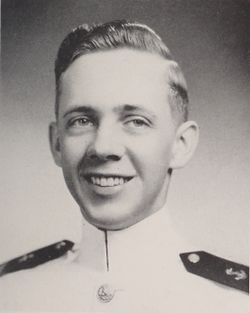 From the 1950 Lucky Bag:
CEDRIC ARTHUR PETERSON

La Crosse, Wisconsin

Ready, fence! These were familiar words to Pete's ears. This may have been an outgrowth of his many after-taps, broomstick-and-waterbucket sorties Plebe summer. Just as he made life interesting for those unfortunates who encountered him on these raids, so did he favor his opponents with the busy end of an epee. The possessor of a sympathetic ear, a helping hand, and an array of femme fables, Pete knew how to get the spice out of life so as to flavor the dark days of those around him.
Life & Loss
Cedric was lost on December 7, 1953 while piloting an F-84G near Komaki AB, Japan. He is buried in Wisconsin.
Related Articles
James Bowers '50, Hamilton McDowell, Jr. '50, Wilbur Spradling, Jr. '50, James Wills, Jr. '50, Edward Hotz, Jr. '50, Lorenzo Daleo '50, George Duncan, Jr. '50, and Christopher Braybrooke '50 were also graduated from pilot training class 51-E, Williams AFB, Arizona, on August 4, 1951. (Sixty-seven Naval Academy graduates completed this class.)