JEROME C. STUART, 2LT, USMC
From USNA Virtual Memorial Hall
Birthdate & Date of Loss
| | |
| --- | --- |
| Date of birth: | September 2, 1929 |
| Date of death: | April 24, 1952 |
| Age: | 22 |
Lucky Bag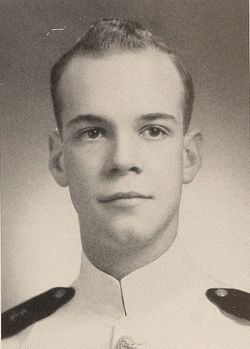 From the 1951 Lucky Bag:
Jerome Carroll Stuart

Edgewater, Maryland

"She's gotta have class" . . . born in Parris Island . . . must be a Marine . . . "Baldness is a sign of virility, I'm mucho virile, that's all the Dago I know." . . . next to fencing comes tennis and swimming in the summer months ... a varsity fencer . . . just give me a beer, the post, and a nice soft rack . . . "Wanta buy some pajamas?" . . . "Gotta shine these shoes" . . . everybody's friend . . . and always there to help out . . . will try until he gets the answer . . . determined . . . deliberate . . . never gets enough sleep except on weekends when the girl with class isn't around.
He was also captain of the fencing team.
Loss
From Find A Grave:
Jerry Stuart graduated from the U.S. Naval Academy in 1951. He was a champion fencer (foil), an admired dancer (often compared to Fred Astaire), a beloved son, brother, and friend to his Naval Academy classmates.

Jerry "Jake" Stuart was killed instantly by shrapnel from a land mine while a young Lieutenant on patrol in Korea. A heart-wrenching loss to all who loved him. He was a dedicated Marine like his father, Lieutenant General James A. Stuart of the Bougainville Campaign of WWII.

He was the Uncle that I never knew, but proudly carry his name. Jerome C. Stuart II
He is buried in the Naval Academy cemetery.
Other
He graduated with his brother, Thomas, who also fenced, also served in the Marines, and was wounded in Korea.
Related Articles
Edward Wood '51 was also on the fencing team.
Morris Reisinger '51, Earl Valentine, Jr. '51, James Laramore '51, and William Phillips '51 were also graduates of the "9th Special Basic Class" who trained at Quantico from July to December 1951.