JOHN C. MICHEEL, CDR, USN
From USNA Virtual Memorial Hall
Birthdate & Date of Loss
| | |
| --- | --- |
| Date of birth: | April 5, 1916 |
| Date of death: | January 31, 1953 |
| Age: | 36 |
Lucky Bag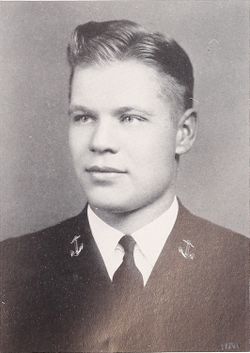 From the 1940 Lucky Bag:
JOHN CARL MICHEEL

Cavour, South Dakota

Mike is from South Dakota, and though he left the plow for the Navy, he still packs the horse around under his blonde locks. While on the subject of hair, he has continually stymied three roommates by comparing his with their thinning toppers. Yes, he's a blonde Dutchman, and proud of it! Softening the usual blunt Dutch nature, is a great deal of human understanding, as attested by his ready smile and kindly wit. His hobby, in addition to promoting two roommates, is to construct business propositions which more often than not, have a social reform for their background. Good luck, Mike!
Loss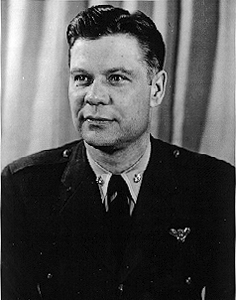 From Find a Grave:
USNA Class of 1940, Commander Micheel was a veteran of World War II. In Korea, he was the pilot of an AD-3 Skyraider dive bomber and the Commanding Officer of Attack Squadron 125 (923) aboard the USS ORISKANY (CVA-34). On February 1, 1953, while leading an attack on an enemy bridge in the "Punchbowl" area of North Korea, his aircraft was struck by enemy anti-aircraft fire, lost its wing and crashed. Through his skill and courage, he destroyed a major section of the bridge before crashing to the ground. His remains were not recovered. His name is inscribed on the Courts of the Missing at the Honolulu Memorial. ** For his leadership and valor, Commander Micheel was awarded the Distinguished Flying Cross, the Purple Heart, the Combat Action Ribbon, the Korean Service Medal, the United Nations Service Medal, the National Defense Service Medal, the Korean Presidential Unit Citation, the Republic of Korea War Service Medal and the World War II Victory Medal.
He has a memory marker in South Dakota.
Distinguished Flying Cross
From Hall of Valor:
(Citation Needed) - SYNOPSIS: Commander John Carl Micheel (NSN: 0-122822), United States Navy, was awarded the Distinguished Flying Cross (Posthumously) for extraordinary achievement while participating in aerial flight while serving as Commanding Officer of Attack Squadron NINE HUNDRED TWENTY-THREE (VA-923), embarked in U.S.S. ORISKANY (CVA-34), in action against enemy aggressor forces in Korea on 1 February 1951.

General Orders: All Hands (May 1954)
Action Date: February 1, 1951
Rank: Commander
Company: Attack Squadron 923 (VA-923)
Division: U.S.S. Oriskany (CVA-34)