WALTER L. SHAFFER, LCDR, USN
From USNA Virtual Memorial Hall
Birthdate & Date of Loss
| | |
| --- | --- |
| Date of birth: | April 11, 1916 |
| Date of death: | November 16, 1944 |
| Age: | 28 |
Lucky Bag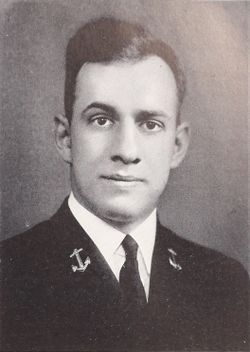 From the 1940 Lucky Bag:
WALTER LEVIS SHAFFER

Reading, Pennsylvania

From a moderately sized town nestled in one of Pennsylvania's valleys came Walt to commence his career in the Navy. A young man of ability there, he has not changed in the transplanting. His interests are of a varied nature, and his forte, athletics. In entering the Navy, he has diverted his tenacious and energetic personality into a field wherein it is bound to flourish. Possessed of a fiery yet commanding loquaciousness and a pen of flowing expertness, his capacity for self-expression should lead him far in the attainment of his ambitions, which are as abundant and as well founded as his abilities.
Loss
Walt was lost when USS Scamp (SS 277) was sunk, possibly by a Japanese surface craft or mine, south of Tokyo Bay, probably on November 16, 1944.
His wife was listed as next of kin. Walter has a memory marker in Pennsylvania.
Legion of Merit
On Eternal Patrol says he was twice awarded the Legion of Merit, but unable to find citation.