RICHARD K. MASON, JR., LT, USN
From USNA Virtual Memorial Hall
Birthdate & Date of Loss
| | |
| --- | --- |
| Date of birth: | September 23, 1916 |
| Date of death: | October 8, 1944 |
| Age: | 28 |
Lucky Bag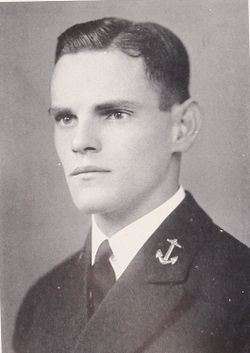 From the 1940 Lucky Bag:
RICHARD KEEBLE MASON, JR.

Camden, Arkansas

Arkansas lost a good lawyer when "Arky" gave up his law course to become a naval officer. Before his naval career was a week old, he knew the "reg." book completely, and ever since his sagacity in interpreting our own "laws" has rivaled that of a Supreme Court justice. Small, dynamic, his every action is characterized by a thoroughness and intentness of purpose that is certain to bring results. He can always be depended upon to do his best, no matter what the task, and that same quality will carry him far in the Navy. It's been a rather hectic but thoroughly enjoyable life with you, "Arky;" here's wishing you the best of luck.
Loss
Arky was lost when USS Growler (SS 215) was sunk by Japanese surface vessels on November 8, 1944 in the South China Sea.
His wife was listed as next of kin.
Silver Star
From Hall of Valor:
The President of the United States of America takes pride in presenting the Silver Star (Posthumously) to Lieutenant Richard Keeble Mason, Jr. (NSN: 0-85184), United States Navy, for conspicuous gallantry and intrepidity in action as Assistant Approach Officer of the U.S.S. GROWLER (SS_215), during the TENTH War Patrol of that Submarine in enemy controlled waters from 11 August 1944 to 26 September 1944. His cool leadership in coordinating the fire control data during the Growler's attacks which resulted in the sinking of three enemy destroyers, two merchant ships and in the damaging of two more merchant ships, showed great courage and ability. His conduct throughout was in keeping with the highest traditions of the United States Naval Service.

General Orders: Commander 7th Fleet: Serial 0585 (February 8, 1944)
Action Date: August 11 - September 26, 1944