JOHN B. PYE, LCDR, USN
From USNA Virtual Memorial Hall
Date of birth: August 8, 1917
Date of death: January 12, 1945
Age: 27
Lucky Bag
From the 1939 Lucky Bag:
Loss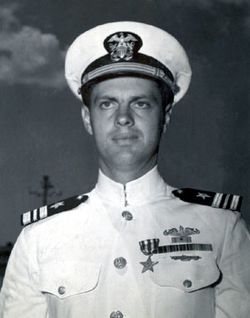 John was lost when USS Swordfish (SS-193) was sunk, probably by enemy vessels, off the Ryukyu Islands on January 12, 1945. He was the boat's executive officer.
His wife was listed as next of kin. John has a memory marker in Arlington National Cemetery.
Unable to find citations for the Silver Star or Bronze Star medals he was awarded.
Family
John's father was a Vice Admiral and 1901 US Naval Academy graduate who retired with 44 years of service, including acting Commander in Chief of the US Pacific Fleet and president of the Naval War College.
Related Articles
His brother, William Pye, Jr. '28, was lost in 1938 when his fighter crashed following a mid-air collision off the coast of southern California.