JOHN F. O'MALLEY, LT, USN
From USNA Virtual Memorial Hall
Birthdate & Date of Loss
| | |
| --- | --- |
| Date of birth: | September 4, 1919 |
| Date of death: | September 27, 1943 |
| Age: | 24 |
Lucky Bag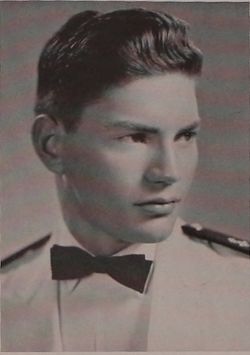 From the 1941 Lucky Bag:
JOHN FENDALL O'MALLEY

Long Beach, Calif.

Smooth is the word for John. Even without his patent leather shoes and his white silk gloves he could easily be classified as the smoothest dancer on the floor at any hop—and he's always there. This meticulous attention to each detail is not reserved solely for dress occasions, either, for Jeff's shoe shines have been the envy of every man in ranks with him for four years.

The nickname "Horizontal," which he earned by means of his outstanding fondness for bunk drill, might lead one to believe the person described is lazy, if it were not for his accomplishments—but the Navy varsity on the tennis courts disprove that assumption immediately. Tenacity is the keynote of John's attitude toward both tennis and academics. He takes himself seriously in both fields and gets results.

Pensacola has always been Jeff's dream and goal. His tenacity of purpose should carry him on to a realization of that dream when he finds himself cavorting around in the clouds in one of the Navy's latest fighters.

Tennis 4, 3, 2, 1, N; Trident 3.
The Class of 1941 was the first of the wartime-accelerated classes, graduating in February 1941.
Loss
John was lost when the aircraft he was piloting crashed near Jacksonville, FL, on September 27, 1943. He was flying with Fighting Squadron Outgoing Training Unit (VF OTU) 3 at the time.
He is buried in Arlington National Cemetery.