WALTER H. LOUNEY, LT, USN
From USNA Virtual Memorial Hall
Birthdate & Date of Loss
| | |
| --- | --- |
| Date of birth: | March 31, 1918 |
| Date of death: | September 28, 1943 |
| Age: | 25 |
Lucky Bag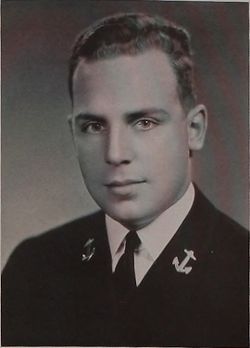 From the 1941 Lucky Bag:
WALTER HOWARD LOUNEY

Brighton, Mass.

Boston Charlie, born in Milton, Massachusetts, soon moved to Boston which he now claims as his home. Living near the sea, Walter got slightly salty before he sailed the Severn. This, and a year at Boston College made him feel pretty much at ease around the old Academy. Endowed with a cynical sense of humor, he never worried but took things as they came—he bellowed long and loudly, but it was all in fun.

Walt's troubles at the Naval School quickly fell into three parts : getting himself up that awfully high rope, convincing Massachusetts girls that Annapolis wasn't too far away, and getting enough gravy in his dailies to hold up those exams. The fall months at the Academy found Walter playing battalion football and reading magazines during the winter it was more magazines; but in the spring the young man's fancy lightly turned to thoughts of sailboats—this was tops.

Whether Walter flys, dives, or punches a stadimeter is as yet undecided, but whatever branch, we wish him luck and know he'll do well.

Plebe Cross Country; Battalion Football 2; Boat Club 3, 2, 1; Sailing Team 2, 1.
The Class of 1941 was the first of the wartime-accelerated classes, graduating in February 1941.
Loss
Walter was lost when USS Cisco (SS 290) was sunk, likely on September 28, 1943 by Japanese ships and aircraft.
His mother was listed as next of kin.