KENNETH J. HARTLEY, LCDR, USNR
From USNA Virtual Memorial Hall
Lucky Bag
From the 1933 Lucky Bag:
Biography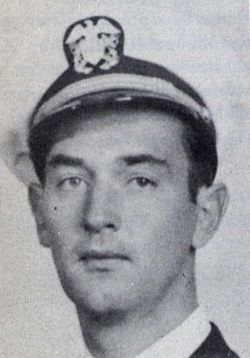 From the 1953 edition of the book "Double Three Roundup," published by the class of 1933:
Ken resigned on graduation and was commissioned in the Naval Reserve. He went to work in the family business, the Jamestown Finishing Products, Inc., as treasurer. Until 1940 when he was called to active duty, he was, in addition to his regular vocation as treasurer of the firm, very active in St. Lukes Church and with the Masonic Lodge and Jamestown Consistory, taught night school, and served with the Naval Reserve unit at Dunkirk, New York.

In 1940 Ken received orders to active duty and was first assigned to the YP-52 engaged in patrol duty. He later assisted in fitting out the PC-496 at Sturgeon Bay, Wisconsin, and assumed command of that vessel when it was placed in commission early in World War II. In November 1942 he was ordered as Commanding Officer of the MIGHT from her commissioning in December 1942 until July 1943. Ken then had one month's instruction at the Miami Submarine Chaser Training Unit and in August 1943 reported to Brown, Texas, to fit out and commission the BROUGH as Commanding Officer. On November 12, 1943, while the BROUGH was at sea near Bermuda, Ken was knocked down by a heavy sea while standing near a gun shield and received serious head injuries from which he did not recover.

Ken had married Mary Sands of Jamestown in Buffalo in August 1933. They had two daughters, Sue age 18, and Sabina age 11. Mary reports that Ken was a wonderful husband and father, provided his family with every material comfort and gave them also of his fine mind and spirit. The oldest daughter, Sue, is entering a midwestern University in September of 1952, while the youngest, Sabina, will still be growing up under her mother's wing for seven more years. Mary and the two girls make their home at 15 Spruce Street, Jamestown, New York.
Loss
Kenneth was commanding officer of USS Brough (DE 148) when he died of injuries suffered in heavy seas on November 12, 1943.
From History of USS Brough (DE 148):
BROUGH was commissioned 18 September at Orange, TX, LCDR Kenneth J. Hartley, USN, in command. DE-148 departed Orange, TX 27 September and entered the Gulf of Mexico enroute to Galveston for ship degaussing. The next port of call was New Orleans, LA early in October 1943.

From 9 October through 11 November, Brough was involved with her shakedown cruise off Bermuda. She departed Bermuda 11 November enroute to Charleston, SC. During this return trip, on 12 November, very high seas were encountered which caused the death of Captain Hartley. He was inspecting a problem with the number one gun mount and a large wave threw him against the gun's splinter shield causing fatal head injuries. BROUGH returned to Bermuda the same day where Capt. Hartley's body was delivered for burial.
Kenneth is buried in New York.
It's unclear when he transitioned to the reserves or when he was recalled.
Kenneth is one of 38 members of the Class of 1933 on Virtual Memorial Hall.