MARSHALL J. LYTTLE, JR., LCDR, USN
From USNA Virtual Memorial Hall
Birthdate & Date of Loss
| | |
| --- | --- |
| Date of birth: | unknown |
| Date of death: | November 18, 1947 |
| Age: | unknown |
Lucky Bag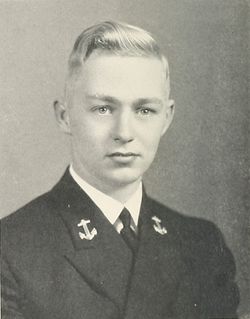 From the 1942 Lucky Bag:
MARSHALL J. LYTTLE

Marsh, Lou, Dump

From the land of automobiles "Dump" rolled in just out of high school. Marsh took life at the Academy very leisurely, and, while lying on his bunk, was always ready to sing the praises of Michigan's great athletes and discuss track records with anyone. The afternoons that he was engaged in athletics were spent dealing out bridge hands or trying to beat old sol.

Battalion Football; Track 4, 42; 1 Stripe.
The Class of 1942 graduated on December 19, 1941, less than two weeks after the United States entered World War II. The class had previously been scheduled to graduate in February 1942.
Loss
From Newport Mercury of Newport, Rhode Island, on November 21, 1947:
Identified by the navy as the victims In the two-plane crash off Block Island Tuesday were Lieutenant Commander Minuard F. Jennings, 32, of Westerly, and Lieutenant Commander Marshall J. Lyttle, 26, of Sagiriaw, Mich., commander and executive officer, respectively, of the flight. The two single-seater navy planes were operating out of Charlestown Navy Air Base, the Associated Press said, when they collided during manoeuvres. Searchers found only scattered wreckage of the planes. Neither pilot apparently was able to ball out, the navy said.
The date of the accident was November 18, 1947.
Could not find any memorial marker or next of kin.
Wartime Service
He was stationed aboard USS Isherwood (DD 520) as of March 1944.