MARTIN B. COX, LTJG, USN
From USNA Virtual Memorial Hall
Lucky Bag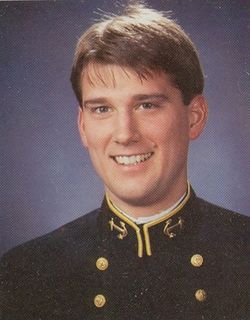 Loss
From the Associated Press via VPnavy.com on March 21, 1991:
SAN DIEGO - Two Navy submarine-hunting planes collided Thursday, and all 27 people aboard were feared dead in cold, choppy waters 60 miles off Sourthern California, authorities said.

The Navy listed the crews as missing, but there was little hope any of the crew members from the downed P-3 Orions survived.

The all-weather planes were engaged in an anti-submarine Warfare exercise when they collided in bad weather, authorities said.

"I think we have to be realistic here," said Senior Chief Petty Officer Bob Howard, a Navy public affairs officer at North Island Naval Air Station. "It is very cold out there. We're talking about what apparently is a mid-air collision...two aircraft. I would say it would be very grim."

Still, he said, the Navy was conducting an aggressive air and sea search of the crash site.

Search and rescue teams saw some debris from the planes but found no signs of life.

There was no word on how long the search would last, but Howard said the Navy would make "extraordinary" attempts to retrieve remains and wreckage.

The aircraft carrier USS Abraham Lincoln, the destroyer USS Merrill and at least two other ships, along with helicopters and fixed-wing planes, were assisting in the search.

A Navy helicopter crew flying in the area and sailors from the Merrill reported a ball of fire and loud explosion about 2:30 a.m. PST, Howard said during a briefing at North Island Naval Air Station.

He said the accident occurred over the Pacific Ocean about 60 miles southwest of San Diego.

The collision occurred as one P-3 Orion was arriving to relieve the other, which had just complted its part of the exercise, Howard said. Officials were uncertain how much contact the pilots had before the crash, he said.

Howard said it was believed 13 crew members were aboard one P-3 Orion and 14 on the other. The planes were on a training mission from Moffett Naval Air Station near San Jose. Names of crew members were withheld pending notification of their families.

The P-3s were in contact with land- and sea-based air controllers during the exercise, but officials were uncertain who was directing them at the time of the collision, Howard said.

Showers and strong winds were reported in the San Diego area overnight. The National Weather Service said pilots in the area reported severe turbulence about the time of the collision.

Howard said the Navy was uncertain what part, if any, weather played in the collision.

The P-3 Orion, driven by four propellers, is regularly used by weather forecasters to fly in hurricanes.
Martin is listed as being 27 years of age and from Oklahoma City, Okla.
Obituary
From the October 1991 issue of Shipmate:
Lt (jg) M. Bradford Cox, USN, was killed in a P-3 mid-air collision on 21 March 1991 while flying a training mission off the coast of San Diego.

A memorial Mass was held on 25 March at St. Joseph's Catholic Church, Mountain View, California. A second memorial service was held on 28 March at NAS Moffett Field.

Brad was born 19 January 1964. After attending the Naval Preparatory School, he was appointed to the U.S. Naval Academy with the Class of 1988.

He graduated from the Academy 25 May 1988 and married the former Lisa M. Ford of Fairfax, Virginia on 27 May 1988. Brad received his Naval Aviator Wings 15 December 1989 at NAS Corpus Christi. He was assigned to VP-31 Training Squadron in January 1990 and to VP-50, NAS Moffett Field in July 1990. He was assigned the duties of Aviator's Equipment Branch Officer

Lt (jg) Cox is survived by his wife, Lisa M. Cox, 313 South 61st Avenue, Pensacola, Florida; his mother, Gayle Cox of Oklahoma City; his father, L. Allen Cox of San Diego; and his sisters, Paula Hirschler and Jennifer Cox of Oklahoma City.
Related Articles
Robert Nemecek '80, Dennis Redmond '86, Jay Williamson '86, Mark Hamilton '87, and Ned Metcalf, Jr. '87 were also lost in the collision of two P-3 Orions of Patrol Squadron (VP) 50 off the coast of Southern California on March 21, 1991.
Martin is one of 8 members of the Class of 1988 on Virtual Memorial Hall.