MAURICE I. LALLEMENT, 1LT, USAF
From USNA Virtual Memorial Hall
Birthdate & Date of Loss
| | |
| --- | --- |
| Date of birth: | January 21, 1930 |
| Date of death: | January 6, 1954 |
| Age: | 23 |
Lucky Bag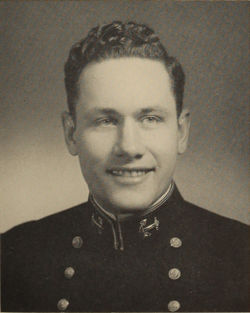 From the 1952 Lucky Bag:
Maurice I. Lallement

Wichita, Kansas

Micky thundered into the quiet life of the Academy from college in Wichita, Kansas. Almost from the start, he was dubbed the "Monk" in honor of his basso shower voice and playful antics. Monk reached the saturation point in the field of athletics flat on his back in the upper wrestling loft, flexing his rubber tire. Not to be outdone in the art of crest trading, he finally settled for a certain Wichita beauty who kept his heart pounding. Monk's likable personality and humor should find him many friends when he enters the Naval Air Corps.
Loss
Mickey was lost when his F-94 Starfire crashed while landing at Goose Bay Air Base, Labrador, Canada, on January 6, 1954. He is buried in Kansas.