MURDOCH M. MCLEOD, CDR, USN
From USNA Virtual Memorial Hall
Birthdate & Date of Loss
| | |
| --- | --- |
| Date of birth: | August 30, 1924 |
| Date of death: | April 29, 1965 |
| Age: | 40 |
Lucky Bag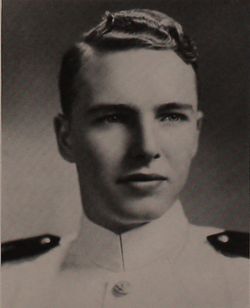 From the 1947 Lucky Bag:
Murdoch Mills McLeod

Minneapolis, Minnesota

An unconventional person, Dick endeared himself to his classmates by his very originality. He was completely capable of any task, and this end was aided by a slight stubbornness to persevere. Steadfast in purpose, he did not readily backtrack. The Academy afforded him opportunity to pursue his interests: art, airplanes, and athletics. Some of his drawings graced the Trident Calendar, and pictures of planes decorated his locker instead of the usual "pin-ups." An end and a hurdler on the plebe football and track teams respectively, he found company sports more to his liking, devoting himself exclusively to them during upperclass years.
The Class of 1947 was graduated in June 1946 due to World War II. The entirety of 2nd class (junior) year was removed from the curriculum.
Life & Loss
Unable to find any information about Dick's life or loss. He is buried in Arlington National Cemetery, next to his wife, Jane, who died in 2007.
In 1957 he was noted for his excellence in bombing from a A4D Skyhawk with Attack Squadron (VA) 34.