VALENTIN G. MATULA, CDR, USN
From USNA Virtual Memorial Hall
Date of birth: October 5, 1923
Date of death: July 20, 1965
Age: 41
Lucky Bag
From the 1947 Lucky Bag:
Loss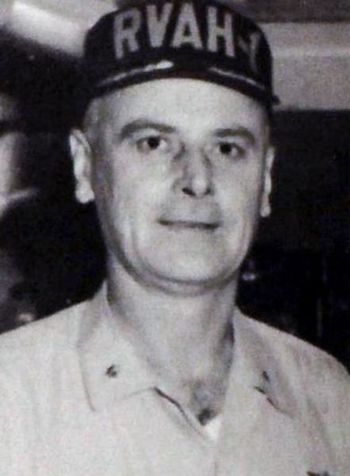 From "RA-5C Vigilante Units in Combat" by Robert R Powell:
RVAH-1 lost its commanding officer on 20 July [1965]. Returning from a reconnaissance mission over North Vietnam, the crew successfully landed back aboard ship, only to discover that the arresting gear had been set incorrectly and the wire broke. RA-5C BuNo 151619 ran off the deck and into the water. There was no time to eject, and the pilot, Cdr Valentin Matula, and RAN, Lt Carl Gronquist, were killed on impact. Because of the aircraft's size and weight, arresting gear and catapults worked at maximum limits when operating with the Vigilante, and incorrect settings remained a problem throughout the jet's career.
Valentin was operating from USS Independence (CV 62) at Yankee Station.
He was survived by his wife, Demetra Ann, and two children. (Information from August-September 1965 issue of Shipmate.) He has a memory marker in Arlington National Cemetery.
Memorial Hall Error?
Valentin is listed on the killed in action panel in the front of Memorial Hall. While not an obvious error, inclusion on the panel for crashes like this (incidental to combat flights) has been inconsistent across WWII, the Korean War, and the Vietnam War.
Valentin is one of 27 members of the Class of 1947 on Virtual Memorial Hall.