PETER J. NELSON, LT, USN
From USNA Virtual Memorial Hall
Lucky Bag
From the 1962 Lucky Bag:
Loss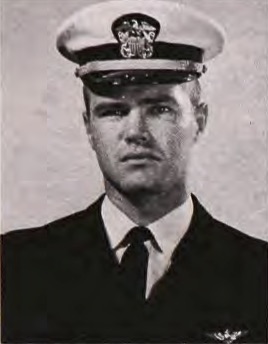 From the May 1970 issue of Shipmate:
Lt. Peter J. Nelson, USN, died 27 February after a helicopter crash at Ellyson Field, Pensacola, on 19 February. Services were held at Trinity Lutheran Church, Westbrook, Mn., and interment followed in the Westbrook Cemetery.

Lt. Nelson was bom in Windom, Mn., and graduated from the Naval Academy with the class of 1962. He spent three years after graduation at the Naval Air Base at Pensacola, Fl., where he became a helicopter pilot. He logged over 1000 hours of combat flying in a year's tour of duty in Vietnam and was decorated by the Navy for his service in the war. Lt. Nelson returned to Pensacola as helicopter instructor after this tour of duty, and it was on a student flight that the accident occurred which caused his death.

He is survived by his mother, Mrs. Emily Nelson of Westbrook, Mn.; two sisters; and three brothers.
The helicopter was operating with USS Taconic (LCC 17). The other four men aboard were also killed.
Pete is buried in Minnesota.
Related Articles
Michael Newell '62 and Louis Grant, II '62 were also in 10th Company.
Thomas Murray '62 was also on the Wrestling Team.
Peter is one of 30 members of the Class of 1962 on Virtual Memorial Hall.
The "category" links below lead to lists of related Honorees; use them to explore further the service and sacrifice of the alumni in Memorial Hall.