ROBERT G. BELL, MAJ, USAF
From USNA Virtual Memorial Hall
Date of birth: May 23, 1930
Date of death: May 16, 1965
Age: 34
Lucky Bag
From the 1952 Lucky Bag:
Obituary
From Colin Burgess, Selecting the Mercury Seven: The Search for America's First Astronauts via Together We Served:
Robert Graham Bell was born in Cisco, Texas, on 23 May 1930. Two years later his father Frank, a sergeant in the U.S. Marine Corps, was killed in Indochina. Bell's widowed mother would eventually remarry and he would grow up under his stepfather's name of Edwards. As a pre-teen, he attended the Peacock Military Academy (PMA) in San Antonio where he was registered - and known - as Bobby Bell Edwards. At PMA he became part (and later captain) of the crack Zouave drill team, whose teenage cadets performed precision drills in their immaculate uniforms. He would also receive his student pilot license at the age of sixteen and become president of the senior class. He began flying at the age of fifteen and received his pilot's licence at the age of sixteen.

After six years at the academy Bell would graduate in 1947 as a Battalion Commander — the highest rank for a cadet. [Editor's note: this is not true, and there's no cadets at the Naval Academy.] Following his graduation he would attend a single semester at Rice University and another the following year at the U.S. Naval Academy. He would then become a midshipman at the naval academy in Annapolis in 1948, at which time he would also legally revert to using his birth name of Bell.

In the early 1950s the U.S. Air Force was actively recruiting Navy personnel in order to fill its technology and piloting ranks, and Bell was one of those who opted to make the change, entering the force with the rank of 2nd Lieutenant and a service number of 23271A. There would be another defining change in his life in 1952 when he married his sweetheart, Jackie (Jacquelyn) Rogers of Houston, Texas.

The next phase in Bell's air force career was pilot training, which he would undertake from 3 June 1952 at Hondo AFB, followed the year after by jet training at Connelly AFB, also located in Texas. Promoted to 1st Lieutenant, Bell then took on advanced jet training and attended fighter gunnery school before being assigned to the 1st Fighter Squadron at Hamilton AFB, California, in 1954. That same year he and Jackie would celebrate the birth of their first child — a daughter, Cherlyn Cathleen. A second child — a son, Wesley Curtis — was born in 1955, rounding out their family. Bell was next assigned to overseas duties with the 35th Fighter-Interceptor Wing, flying F-86D Sabres out of Yokota AFB in Japan, and in 1956 he spent a year with a second F-86D squadron, the 41st Fighter-Interceptor squadron based at Anderson AFB in Guam. While serving there he was promoted to the rank of captain.

In1958, Bell entered Test Pilot School at Edwards AFB in California and subsequently flew such aircraft as the C-130, B-57, F-100 and F-101 while based at Robins AFB in Georgia. At the time he submitted his astronaut application to NASA he was also involved in studies at Squadron Officer School, located at Maxwell AFB, Alabama. Although he was ultimately unsuccessful, two academy friends from PMA, G. Weldon Slaughter and Tom Knight, revealed that Bob Bell told them he had come twelfth in the final candidate rankings.

Moving on from Robins AFB, Bell next became a member of the U.S. Air Force's 4520th (Thunderbirds) Air Demonstration Squadron in 1961. As an officer pilot, he would serve a two-year assignment with the team. Then operating F-100C Super Sabres out of Nellis AFB in Nevada, the display squadron would tour the United States and other selected venues, performing aerobatic formation and solo flying in four specially-marked jet aircraft. The 1961 team comprised Major Ralph ("Hoot") Gibson - America's third jet ace - as squadron commander and team leader, with Captain William Hosmer positioned on the left wing and Captain Robert Cass on the right, while Bell took up what was called the "slot" position. In creating the squadron's signature diamond formation, the slot pilot's role was to move into position astern of the lead aircraft, which meant that the vertical stabilizer on this aircraft was permanently blackened from the exhaust of the lead aircraft. Five years earlier, future astronaut Bill Pogue had also flown this same slot position with the Thunderbirds.

Bill Hosmer (left wing) recently recalled two incidents which he says reflect Bell's abilities and stability under tense situations."We were doing air shows at the Daytona 500 races in early 1962. On take-off from McDill AFB, Florida, the right wing man Bob Cass lost his radio, which makes it difficult to fly formation aerobatics with no clues hearable on each maneuver. On the cross-over from the bomb-burst maneuver he pulled up early, before he and I met and passed under the lead, "Hoot" Gibson, and Bob Bell, the slot. I told lead I couldn't see where Cass was. He was really on his way back to McDill without a radio because he had struck a flag pole with his left wing. It cut into the wing and a lot of fuel and hydraulic fluid was being vented overboard. At the same time, Bob Bell said that he was stuck in afterburner and would not have enough fuel to make McDill if he could not find a way, and fast, to keep from losing a lot of fuel.

"I followed his F-100 toward McDill, but it flamed out about halfway. Fortunately, Naval Air Station Stanford was in sight. Bob entered a low key, but could not get to high key. These are checkpoints in three-dimensional space, associated with flameout patterns, and are based on altitude, airspeed and aircraft position from the approach end of the runway. They are meant to help a pilot determine if he has enough energy to be able to land on the runway without propulsion (power). Bob executed a perfect dead-stick landing and was even able to turn off onto a taxiway so as not to close the runway. He was perfectly cool under much pressure.

"The other occasion that year was at the Air Force Academy graduation site. We were doing the diamond formation inverted pass. It was a long pass, which was difficult to do over that terrain, and on the rather fast roll out to upright flight from the left wing position, I noticed something unusual out of the corner of my eye. As we pulled up to do our wifferdill, a basic turning maneuver which gets us into position for the next display, Bob Bell said to the right wingman, Ralph Brooks, "Ralph, did you hit me?" Ralph answered, "Negative." So we did the next maneuver and in the wifferdill at the other end of the show site, Bob Bell said, "Ralph, you did too!" Three feet of red, white and blue stripes on Bob's wing tip was missing, and Ralph's wing was also damaged. We finished the show and landed at Peterson Field, Colorado, after those two did some stalls to see if they'd need to hold a little higher airspeed on final approach. Bob stayed cool, continued to maintain his proper position, and considered it another day's work."

The 1961-62 Thunderbirds team would travel 652 days in their two-year tenure, visiting forty states and fourteen Central and South American countries while flying a total of 180 spectacular demonstration shows, each of around twenty-three minutes duration. During this time Bell would appear twice on the Johnny Carson show to discuss his role as a Thunderbird pilot, and would even carry the amiable but nervous TV host on one of his demonstration flights.

Bell had been keen to reapply for the astronaut corps, but when applications were invited for the second intake in April 1962 he had already become an integral part of the Thunderbirds team. That same year, during a Thunderbirds exhibition in Houston, Texas, several ex-PMA cadets honored him with a reception at the Shamrock-Hilton hotel [photo].

Promoted to major in 1963, Bell then attended Naval War College in Newport, Rhode Island, and in 1964 was awarded his Masters Degree in International Affairs at George Washington University in Washington, D.C.

From 1964-65, Bell was on temporary assignment to the navy, first at NAS (Naval Air Station) Miramar in California, followed by his deployment to Vietnam as an F-8E Crusader pilot on the carrier USS Oriskany. In his book Captain Hook: A Pilot's Tragedy and Triumph in the Vietnam War, fellow aviator on the Oriskany, Wynn F. Foster, described Bell as "a popular air force exchange pilot who had been serving with Oriskany's VF-162 squadron." By this time he had been awarded the National Defense and Vietnam Service Medals, as well as an Air Medal.

Frank Snay has two particular memories of Bell's flying skill. He was in the Replacement Air Group (RAG) - a navy training unit - at the same time Bell was transitioning to the F-8 Crusader. Snay said that all of the instructors wanted to fly ACM (Air Combat Maneuvering) against Bell, but none of them could beat him in the air. He further recalls that when Bell came to the squadron he was assigned as the Tactics Training Officer, taking junior officers up on one-on-one training hops. In those hops, Snay says, he learned to do things with the F-8 that he didn't know was possible.

In the early morning hours of Sunday, 16 May 1965, 34-year-old Major Bell set off from the Oriskany on an air-support mission in the vicinity of Saigon, but his Crusader aircraft was apparently hit by enemy ground fire, damaging the bomb release mechanism and causing a fuel leak. He aborted the mission, but under navy regulations knew that he would not be permitted to return to the carrier until the hung bomb had been removed. Low on fuel, he opted instead to divert to the military airstrip at Bien Hoa, fifteen miles north of Saigon, where maintenance technicians could investigate the problem. After landing he clambered out of his cockpit and was making his way to the base operations centre when it seems he returned to the aircraft, possibly for his maps. At around 9:30 a.m., while standing on the wing of his Crusader, he was killed when a sudden, catastrophic accident took place.

The devastation began when a 500-pound bomb loaded onto a B-57B Canberra Night Intruder exploded while the pilot was in the flight line, ready to take off on a bombing mission. The deadly detonation of napalm set off a tragic chain of explosions, engulfing other aircraft and fuel dumps. Another ten bomb-laden B-57 aircraft parked wingtip-to-wingtip nearby were destroyed, along with fifteen A-1E Skyraiders and Bell's Crusader. In all, twenty-seven men died in the massive blasts and firestorm, while nearly a hundred personnel were injured. The explosions were so violent that debris would be found nearly a mile from the base.

It was later determined that the catastrophe resulted from a known fault. B-57 bombers were started with a black powder cartridge that fired when the pilot pressed an ignition switch, which in turn caused a small starter turbine to begin spinning. According to USAF Vietnam veteran Delmar Shelley, these turbines "had a nasty habit of spinning loose and coming out of the starter housing like a buzz saw." On this occasion, however, Hilliard says the turbine "came out and hit the fuse of one of the 500-pounders, starting a chain reaction." He was one of those involved in the removal of the bodies, among them that of Robert Bell. "We found his name tag," Hilliard would report, "but it took about three days to figure out who he was."

Robert Graham Bell would be laid to rest alongside his Marine sergeant father, Frank T. Bell, at the Oakwood cemetery in his hometown of Cisco, Texas. The military rites were conducted by a group from Dyess AFB. In according tribute to one of their own, a memorial service for Bell was held at NAS Miramar, during which the Thunderbirds demonstration team performed a fly-over of the station.

In order to pay homage to those who fell in America's longest war, the names of all service personnel listed on the Vietnam Veterans Memorial in Washington, D.C. were included in a fingernail-sized microchip loaded into NASA's Stardust probe, launched in February 1999 on a round-trip journey of discovery to comet Wild 2. One of the names launched into space was that of Robert G. Bell, USAF.

Colin Burgess, Selecting the Mercury Seven: The Search for America's First Astronauts, Praxis Publishing, September 2011.
Remembrances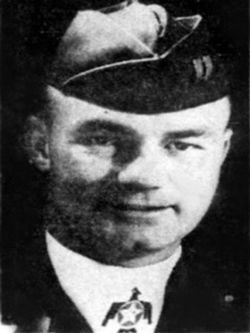 From Collect Space:
I would like to find out any information that may be available on Robert G. (Bob) Bell, who was among the 32, then 25, then (I believe, based on what my mother was told) the 16 considered to be the 99.9%ers (but I would like to get confirmation on this). He was my father, who later flew slot position for the USAF Thunderbirds, flew Johnny Carson in his plane at an actual airshow, then later appeared individually as Johnny's guest on the Tonight Show.

He had quite a resume after graduating from the USNA, but was killed in an "accidental explosion" at Bien Hoa AFB, Viet Nam on 16 May 1965 while on exchange command with the Navy, with the USS Oriskany. There was a issue with his F-8E Crusader while returning from a mission, so he was instructed to land inland at Bien Hoa. The story we were given was that after safely landing and parking at the end of the line of a long row of B-57's, he went to the HQ building, came back to his plane and was about to retrieve something from his plane, when apparently the B-57 next to his plane threw a pin while it was being started, which penetrated his fuselage, and exploded and destroyed his plane and killed him as well.

He was among the younger candidates in the Mercury Program, was at least 5'11, and did not have quite as many flying hours that the final 7 had, but he was an incredible pilot, a perfectionist and certainly one of the most competitive people alive. He stated on more than one occasion to my mother that his ultimate goal was to become Joint Chiefs Chairman!

He was extremely disappointed at not making the final 7, but given his persistence and competitiveness I believe he would have tried again for another chance at space after Viet Nam.

Thank you, Wes Bell, son of Maj. Bob Bell, USAF, 7/21/2015
A reply from Collin Burgess a few hours later:
Wes, I am the author of "Selecting the Mercury Seven: The Search for America's First Astronauts," in which I featured the stories of all 32 finalists including your father. Several people who knew your father contributed to his story, with family information coming from your mother, Jackie. I think you would enjoy the book and finding out a lot more about the selection process and your father's part in it. He was taken from us all too soon in that tragic accident.
I was one of the last people to see Major Bell alive. We were not used to seeing Navy aircraft at Bien Hoa so I set and watched as Major Bell parked and disembarked from the aircraft. I didn't realize at the time he was an Air Force pilot. He was on his way to operations when I departed the area. There was a sudden explosion in the immediate area of Major Bells plane. I didn't know he had returned to the aircraft and didn't find out about this great aviator for several years. May he and the rest of the men that gave there lives that day rest in peace.

But for the grace of God there go I that day. NOEL, LOISJOP@FIDNET.COM, 1/2/12
Memorials
"Bell Loop" at Nellis Air Force Base, NV, is named for Robert.
Robert is among those names on the Vietnam Veterans Memorial in Washington, D.C. As his loss was not due directly to hostile action, though, he does not appear in the Vietnam War section of the killed in action panel in Memorial Hall.
Related Articles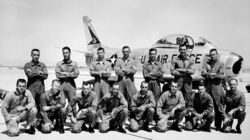 Halvor Ekeren '51 and Hal Crandall '51 were also Project Mercury astronaut candidates.
Robert is one of 50 members of the Class of 1952 on Virtual Memorial Hall.