ROBERT M. BALLINGER, CDR, USN
From USNA Virtual Memorial Hall
Lucky Bag
From the 1955 Lucky Bag:
Loss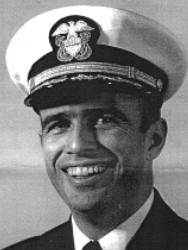 Robert was killed in an explosion when exploring North Korean "incursion tunnels" under the DMZ on November 25, 1974.
He was a member of the United Nations Command Armistice Affairs Division. As of at least 1995, Robert's death was considered "hostile" by the US Department of Defense.
He was the son of Francesca and Richard Ballinger '29. (Information from May 1975 issue of Shipmate.)
Shipmate
From the April 1975 issue of Shipmate:
Cdr. Robert McQueen Ballinger, USN, died on 20 November 1974 in an explosion in the Korean Demilitarized Zone while inspecting a secret tunnel with the United Nations investigating team.

He was born in San Diego, the son of RAdm. and Mrs. Richard R. Ballinger, USN (Ret.) '29, and graduated from the Naval Academy in 1955. Early duty in USS Sigourney and USS Rochester was followed by assignment in 1959 to the Joint Mission to Turkey as Ordnance and Destroyer Advisor. Two years later he went to USS Tolovana as Engineer Officer, and in 1964 to Vietnam as Advisor to the Vietnamese 21st River Assault Group. He then served as XO in USS Procyon until ordered to the Naval Advisory Group Korea in December 1966. From 1968-70 he was in Op-Nav, then served as XO USS Niagara Falls and Chief of Staff to ComServRon 7. In August 1973 he returned to Korea as International Affairs Officer of the U.N. Command/U.S. Forces and was so serving at the time of his unfortunate death.

Cdr. Ballinger held the Silver Star, Bronze Star with Combat "V," Combat Action Ribbon, four Vietnamese decorations and seven campaign medals.

He is survived by his widow, Michi, whose present address is not available as this is written, and his father, whose address is 22 Captain Landing, Tiburon CA 94920.
Silver Star
From the Military Times:
The President of the United States of America takes pleasure in presenting the Silver Star to Lieutenant Robert MacQueen Ballinger, United States Navy, for conspicuous gallantry and intrepidity on the morning of 23 September 1964 in action against enemy aggressor forces while serving as Advisor to the 21st River Assault Group, Vietnamese Navy. When the boats of his assault group were subjected to intense automatic weapons and recoilless rifle fire from a Viet Cong force hidden along both sides of the Ben Tre River in Kien Hoa Province, Lieutenant Ballinger promptly and skillfully manned and operated an 81-mm. mortar, delivered accurate and devastating fire on the enemy positions. Following his example, the assault group brought all their fire to bear on the Viet Cong and succeeded in routing the attackers and inflicting numerous casualties. By his outstanding leadership and cool courage in the face of hostile fire, Lieutenant Ballinger upheld the highest traditions of the United States Naval Service.

Action Date: 23-Sep-64
Service: Navy
Rank: Lieutenant
Company: Advisor
Regiment: 21st River Assault Group
Legion of Merit
From Hall of Valor:
The President of the United States of America takes pride in presenting the Legion of Merit (Posthumously) to Commander Robert MacQueen Ballinger, United States Navy, for exceptionally meritorious conduct in the performance of outstanding services to the Government of the United States as Assistant Secretary, and as Chief, Operations Branch, Armistice Affairs Division, Headquarters, United Nations Command from 5 August 1973 to 20 November 1974. An extremely professional and conscientious leader, Commander Ballinger was responsible for investigating alleged Armistice violations and for the coordination and preparation of all substantiating materials required during meetings of the Military Armistice Commission, a task with far-ranging military and political implications. Through his mature judgment and military/political expertise, he set the United Nations Command's strategy in countering North Korean tactics during Military Armistice Commission negotiations. On 20 November 1974, Commander Ballinger was fatally wounded as the result of an explosion which occurred in a tunnel built by North Koreans in violation of the Armistice agreement. By his outstanding leadership and selfless devotion to duty, Commander Ballinger upheld the highest traditions of the United States Naval Service.

Action Date: August 5, 1973 - November 20, 1974
Service: Navy
Rank: Commander
Robert is one of 34 members of the Class of 1955 on Virtual Memorial Hall.
The "category" links below lead to lists of related Honorees; use them to explore further the service and sacrifice of the alumni in Memorial Hall.