SCOTT T. BRACHER, LCDR, USN
From USNA Virtual Memorial Hall
Lucky Bag
From the 1994 Lucky Bag:
Obituary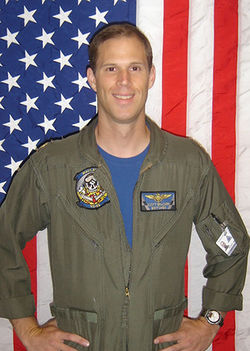 From Legacy.com:
Lt. Cmdr. Scott Thomas Bracher, USN, 33, of Orange Park, FL, died in a military jet crash on Wednesday, Sept. 21, 2005, in Jacksonville. Lt. Cmdr. Bracher, an 11-year veteran of the United States Navy, flew the S-3B Viking carrier-based jet and was a member of the VS-32 "Maulers" based in Jacksonville.

Born in Oceanside, NY, on December 27, 1971, Lt. Cmdr. Bracher spent his formative years in Malverne, NY. Following graduation from the United States Naval Academy, in Annapolis, MD, in 1994, he embarked upon a Naval Aviation career. A decorated pilot, Lt. Cmdr. Bracher earned the Navy Top Hook award five times during overseas deployments. The award recognized those pilots with the highest achievement in carrier landing performance. In 2001, he was the Landing Signals Officer (LSO) of the Year for VS-32. During Operation Enduring Freedom, he conducted multiple combat missions, earning him two Air Medals and a Navy Commendation Medal for his honorable contribution to the war on terror.

Lt. Cmdr. Bracher's specialized Navy training also aided him during off-duty hours. During a VS-32 squadron detachment to the Caribbean in the summer of 2001, he and a fellow squadron mate saved the lives of two small children who nearly drowned in a hotel pool.

In addition to his passion for flying, Lt. Cmdr. Bracher's love of baseball early in life carried though his college years. He played baseball at Annapolis. After a miraculous recovery from a difficult back surgery, he began competing in triathlons and enjoyed rounds of golf with friends.

Lt. Cmdr. Bracher was laid to rest on September 29, 2005, with full military honors, at Barrancas Cemetery, Naval Air Station, Pensacola, FL. His parents, Lorraine and Gregory Bracher, of Pensacola, and a brother, Todd Bracher, of London, England, survive him.
Scott is one of 7 members of the Class of 1994 on Virtual Memorial Hall.