SETH R. MICHAUD, CAPT, USMC
From USNA Virtual Memorial Hall
Date of birth: January 2, 1976
Date of death: June 22, 2003
Age: 27
Lucky Bag
From the 1998 Lucky Bag:
Obituary
Via Arlington National Cemetery, originally published July 12, 2003:
Marine Captain Seth Michaud, who was killed last month by friendly fire in Africa, was remembered in his hometown yesterday as a doting husband and father, a gifted student and pilot and a generous man.

Michaud, a 27-year-old helicopter commander, died in a military exercise in Djibouti when a B-52 dropped nine M117, general-purpose bombs during a practice mission. The bombs hit near troops and two Marine CH-53E Super Stallion helicopters parked adjacent to the bombing range, officials said. His was the only death in the Combined Joint Task Force-Horn of Africa, which had begun training in counter-terrorism in Africa in November.

Nearly 200 friends and family filled St. Michael Church on Manning Street last night to pay their respects to Michaud's family: his parents, Karen and Francis Michaud; his siblings Ethan and Samantha; and his wife, Karen Marie, and their 18-month-old son, Ian.

Michaud's photograph in his Marine uniform, as well as his boots, jumpsuit and hat were on display as reminders of his life in service to his country. Michaud was buried earlier this month at Arlington National Cemetery.

Francis Michaud's fond memories of his eldest son began well before he joined the U.S. Marines or studied at the U.S. Naval Academy.

"I remember Seth as a boy. The books we read, the awesome spaceships we made with Legos," the soccer games and campfires on the lake, he said.

Besides being a standout student, Michaud was an avid athlete, Francis said. He was captain of the high school varsity soccer team his senior year, a member of the ski club, a wrestler his sophomore year, and a member of the track team. He was also an Eagle Scout who loved the outdoors.

"You were a wonderful role model to Ethan and Samantha," Francis said. The brothers went from fighting to becoming best friends in high school and Samantha chose a college in Virginia to be closer to her brother, Francis said.

When Michaud graduated from Hudson High School in 1994, he went to the U.S. Naval Academy in Annapolis, Md., from where he graduated in 1998. Matt Burke, one of Michaud's best childhood friends, described him as "one of the most upstanding kids you'd ever meet."

Michaud was never the same after a friend introduced he and his future wife Karen on the ski slopes of Colorado when the two were in college.

The two were married in 1999 and when Ian was born, Michaud made his whole life his family, whether playing with Ian or making sure to set aside "cuddle time" with his wife at their home near Marine base Camp Lejeune in Jacksonville, N.C.

"You were a dedicated officer, a strong pilot and a proud Marine," Francis Michaud said.

Seth adopted the role of father quickly, though his own father at first wondered how he would have time for parenthood.

"You were so proud to be a daddy. All of the phone calls and stories were about Ian, there were even more of those than about flying."

Francis remembered how his son had regretfully said goodbye to his wife and his son when he left for Africa in April, expecting he might not see them for a year.

"As a young man you were full of integrity, a person who made a difference in our world," Francis said. "You are my hero and I know you are with us today with that grin."

Michaud was a gift from God who taken from this earth earlier than anyone could have expected, the Rev. Kenneth LeBlanc said in his homily.

LeBlanc urged friends to not only pray for Michaud but also for his family, who will have to spend every gathering, every anniversary or holiday or birthday, without him.

"A question that has been on all our minds, 'Why?'

"We don't know," LeBlanc said. "We've been cheated of a life that brought love and hope and life."

The grief that follows such a loss "can leave us numbed, shocked, touched with the deepest emotion, like someone has torn out our hearts."

But there is hope.

"Our faith...enables us to hope. Although we have questions, doubts, anger, it enables us to continue the journey. We are a people of hope and promise," LeBlanc said.

"(Faith) was as much a part of Seth's life as his skin," LeBlanc said. "The love of God, the love of country, were the foundations of his life."
Remembrances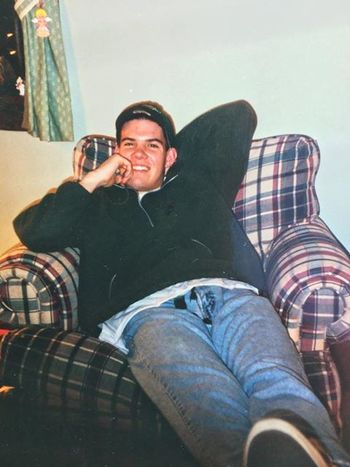 From the Naval Academy Alumni Association's "In Memoriam" page:
I had the opportunity to do CSTS with Seth in the Summer of 1995 as part of our Youngster Cruise. Sailing on the Navy 44 sloop Dauntless we spent a month together sailing up to New England. He was a great member of the crew, always volunteering to be the one to go up the mast when something needed fixed and always a lot of fun to hang out with. When we pulled into Portsmouth, NH he invited me to his home in MA where his mom made me a birthday cake and had me feel part of the family. Seth was a great guy - incredibly smart, humble, adventurous and kind. CDR Nate Bailey '98
From his sister, Sam, on Memorial Day 2017:
There are a lot of times throughout the year that I think about Seth, but Memorial Day is probably the most meaningful for me. It says a lot about our country that we all stop to remember those in our over 200 years of history that have served and given their lives for fellow Americans. There are many vets to remember and I wanted to do my part honoring the memory of my vet by sharing a good memory of him, although there are lots. Probably one of my favorite memories of Seth is having my bedroom next to his growing up. When I was a baby and cried in the middle of the night, eight year old Seth apparently used to come take me to his bed so that I would go back to sleep. Not surprisingly, when I was a little older I loved going into his room to just hang out. Basically this meant I would watch him do whatever he was doing and ask lots and lots of questions. (Older siblings love that.) Sometimes he would even have me walk on his back bc it apparently felt good??

As Seth hit his teenage years and his patience dwindled, a list of rules appeared on his bedroom door. First rule on the list? "SAM IS NOT ALLOWED." Ha! There were way too many interesting things in his room to keep me out. His desk drawers were always full of random things like a Zippo lighter, pieces of car model kits, a camping knife, stuff to make thread bracelets (cool in the 90's), and random papers with his chicken scratch writing. His walls were covered with posters of military jets and cars I didn't know the name of, and his CDs were the epitome of cool to me. On his 18th birthday I heard him sneak out of his room late at night and take off in his old Subaru. I ran into my parents room and woke them up, worried Seth was running away. Turns out he actually just thought it would be cool to stay out past curfew now that he was 18. Oops. When I was in 5th grade, Seth went away to college and our side of the hallway got a lot more quiet. I used to go into his room still because a) he no longer was there to stop me from rooting through his stuff, haha, and b) it helped me miss him less bc it smelled like his favorite cologne, CK Obsession. But the couple times a year he was home from college, I would sit in my bed at night and listen to him play the guitar, continuously bounce a ball off the wall (not annoying at all), and, eventually, chat on the phone to this girl Karen he would not stop telling us about.

Overall, I am thankful for all the good memories I have of Seth, as well as for our vets. If you guys have any good memories of Seth or your own vet to share, we would love to hear them! Hope everyone had a safe Memorial Day.
Seth is one of 4 members of the Class of 1998 on Virtual Memorial Hall.
The "category" links below lead to lists of related Honorees; use them to explore further the service and sacrifice of the alumni in Memorial Hall.