CHARLES A. COPP, ENS, USN
From USNA Virtual Memorial Hall
Lucky Bag
The Lucky Bag was first published in 1894.
Charles Albert Copp was admitted to the Naval Academy from Brooklyn, New York on November 5, 1864 at age 17 years 3 months.
He was admitted as "Enlisted boy".
Loss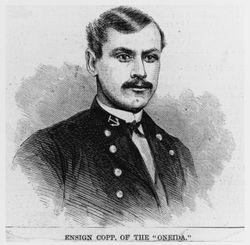 Charles was lost on January 24, 1870 when USS Oneida was sunk following a collision with a British merchant steamer while departing Yokohama harbor, Japan. One hundred twenty-four other officers and men were also lost.
A detailed account of the event is available here.
He has a memory marker in Washington, D.C.
Career
From the Naval History and Heritage Command:
Acting Midshipman, 25 February, 1863. Graduated 6 June, 1867. Ensign, 18 December, 1868. Lost on board the Oneida, 24 January, 1870.
Remembrances
From the Marysville Daily Appeal, 24 March 1870, via the records of the US Naval Academy Alumni Association:
The Officers of the Oneida. Below we give sketches of some of the officers who perished in the ill-fated Oneida:

MIDSHIPMAN A. C. COPP was a resident of Brooklyn, and entered the service as an enlisted boy. He was subsequently appointed to the Naval Academy because of his fine seamanlike qualities, and was a leader in that institution in he athletic sports of his class, maintaining his pre eminence against most all comers. He was excellent with the oar, superior at base-ball, and was a good fencer. His powerful physique made him soldierly in appearance and attested his worth as a national guardian.
Related Articles
Edward Williams '53, William Stewart '61, John Phelan '66, Charles Brown '67, James Cowie '67, James Hull '68, William Uhler '68, George Bower '68, and George Adams '68 were also lost aboard Oneida.
Charles is one of 11 members of the Class of 1868 on Virtual Memorial Hall.