CHARLES L. LAMBERTH, LT, USN
From USNA Virtual Memorial Hall
Date of birth: September 29, 1939
Date of death: May 22, 1968
Age: 28
Lucky Bag
From the 1963 Lucky Bag:
Obituary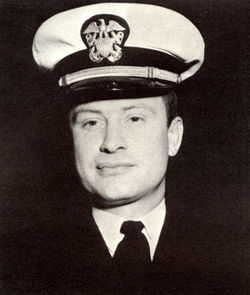 From usna63.org:
Charles Lee Lamberth was born September 29, 1939, in Chicago, Ill. While attending John Marshall High School in Cleveland, Ohio, and Woodlawn High School in Birmingham, Ala., he played in the marching bands. He was accepted as a midshipman to the Naval Academy in July 1959, after he had attended Auburn University for 2 years on an NROTC scholarship. At Auburn he was a member of Sigma Chi social fraternity.

After graduating from the Academy with the class of 1963, he received nuclear propulsion training at Bainbridge, Md.

He graduated from the Naval Submarine School in Groton, Conn.

His first submarine duty was in U.S.S. Thornback, where he served as assistant engineer officer, communications officer, electronics material officer, and public affairs officer. He reported to U.S.S. Scorpion as main propulsion assistant in February 1965. He also served Scorpion as public affairs and special services officer. He wore the National Defense Service Medal and qualified in submarines in 1966.

He is survived by his widow, the former Lynda Kay Brown of Carmel, Calif. He is also survived by his parents. Mr. and Mrs. Clyde Leonard Lamberth of Birmingham.
Related Articles
Francis Slattery '54, David Lloyd '56, Daniel Stephens '59, John Burke '63, George Farrin '63, John Sweet '64, Laughton Smith '65, and Michael Odening '66 were also aboard USS Scorpion (SSN 589) when she was lost with all hands on May 22, 1968.
Charles is one of 29 members of the Class of 1963 on Virtual Memorial Hall.