FRANCIS A. SLATTERY, CDR, USN
From USNA Virtual Memorial Hall
Date of birth: September 15, 1931
Date of death: May 22, 1968
Age: 36
Lucky Bag
From the 1954 Lucky Bag:
Obituary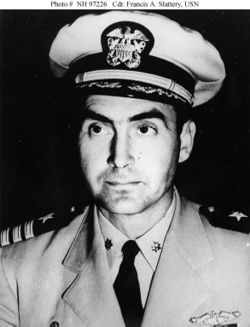 From Find A Grave:
United States Naval Officer. He graduated from the United States Naval Academy in 1954 and served on USS Daly (DD-519) until the end of 1955. Promoted to the rank of Commander in 1967, he was Commanding Officer of USS Scorpion (SSN-589) during her 1968 Mediterranean cruise. He was lost with his ship while returning from that deployment in May 1968.
He was survived by his parents, William A. and Doris; his wife, Dorothy L. Record (married June 19, 1954). They had four children: William Mark Slattery; Steven Slattery; Joline Slattery and Judy Slattery. William Mark was born 1960 and died the next day. His parents died 2001; his wife (remarried) died in 2001. He has a memory marker in Maine.
Related Articles
Michael Odening '66, David Lloyd '56, Daniel Stephens '59, John Burke '63, Charles Lamberth '63, George Farrin '63, John Sweet '64, and Laughton Smith '65 were also aboard USS Scorpion (SSN 589) when she was lost with all hands on May 22, 1968.
Francis is one of 37 members of the Class of 1954 on Virtual Memorial Hall.