CHARLES W. GUNNELS, JR., CDR, USN
From USNA Virtual Memorial Hall
Birthdate & Date of Loss
| | |
| --- | --- |
| Date of birth: | May 20, 1918 |
| Date of death: | April 27, 1957 |
| Age: | 38 |
Lucky Bag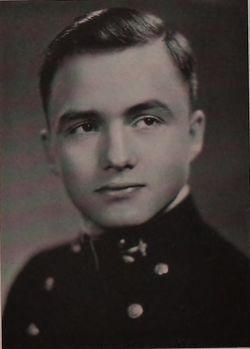 From the 1941 Lucky Bag:
CHARLES W. GUNNELS, JR.

Sandersville, Ga.

A faithful son of Dixieland from 'way down in Georgia is our "Rebel." Truly a Southern gentlemen, he is easy going, soft spoken, and intelligent . . . his opinions are immutable ... he is prolific in his ideas . . . and he accomplishes a great amount of work with a surprisingly small output of effort.

Bill has always had a fondness for traveling. He early forsook the land of cotton and began seeing the world by donning the Navy Blue. Coming to Annapolis was a follow through. South America, with its gold mines, tropical jingles, and pretty senoritas, ever holds a great attraction for Bill.

"Four years together by the sea where Severn joins the tide, Then by the service called away, we're scattered far and wide."

Yet still some day when the long sea trek is over and retirement is the reward of years of patient endeavor, Bill hopes to return to his beloved Southland and live an unhurried life, lounging amongst the magnolias and sipping mint juleps.

Plebe Outdoor Rifle; Battalion Boxing 2, 3.
The Class of 1941 was the first of the wartime-accelerated classes, graduating in February 1941.
Loss
From Facebook:
At 1330 on April 27, the OOD at NAS Atsugi telephoned the ship to report that the SNB-5 with three Shangri-La crewmen aboard was overdue. The plane had departed NAS Atsugi enroute to Komaki Air Base on a proficiency training flight. Aboard the aircraft were Shangri-La'ss Operations Officer, Cdr. Charles Gunnels; Medical Officer, Captain Elmer Johnson; and Lt(jg) James Fryer of HU-1. Also aboard was a first class photographer from a shore station in Japan. A wide search was initiated by U. S. Naval, U. S. Air Force and Japanese Defense aircraft and ships of the U. S. Navy and the Japanese Maritime Defense Force. The next morning, Shangri-La sent thirty members of the Marine Detachment to join ten men of SAINT PAUL (CA-73) to search the mountain area on Izu Peninsula. By mid-afternoon, search parties located the wreckage of the SNB near the crest of Amagi-Sammuaka Mountain on Izu Peninsula. There were no survivors.
He is buried in Arlington National Cemetery. He was survived by his mother, brother, and sister; his father died earlier in April 1957.
Other
He became operations officer of USS Shangri-La (CVA 38) in June 1956, while the ship was in Yokohama, Japan. He "formerly performed duty for the Bureau of Aeronautics at Washington, D.C."
For some reason Charles, and the other men lost in the crash, are not included on the In Memoriam page of the USS Shangri-La (CVA 38) 1956-1957 cruise book.