DAVID H. POPE, LT, USN
From USNA Virtual Memorial Hall
Birthdate & Date of Loss
| | |
| --- | --- |
| Date of birth: | October 3, 1917 |
| Date of death: | July 18, 1943 |
| Age: | 25 |
Lucky Bag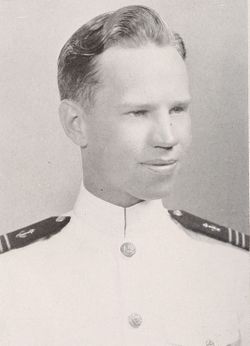 From the 1939 Lucky Bag:
DAVID HENSHAW POPE

WASHINGTON, DISTRICT OF COLUMBIA

Dave

The white works and barber shears changed him outwardly that June day four years ago, but his inner aims and ideals were not clipped. Since then he has taken things as they came—first the system, then academics, and, of course, social activities. Dave has the ability to adjust himself to any situation and finds himself at home whether in the admiral's parlor or in the local rathskeller. A friend to all, he is always ready to "receive" during recreation or study hour. Divey's interests vary from batt sports to the Boat Club, intermingled with other activities as aviation or "Reef Points" publication. He doesn't claim an O. A. O., yet if you want a drag, it is Dave who can get her for you with every one a "queen"—guaranteed!

Wrestling 4, 3, 2, 1, W39T; Soccer 4, 3, 2, 1; Boat Club; Reef Points 3, 2, 1; Racing Committee 2, 1; 2 Stripes.
Loss
From Find A Grave:
Took off from Banika Island in the Russell Island Group on an escort mission for B-24s bombing Kahili Airfield. Over the target, intercepted enemy fighters. This Wildcat failed to return.
He was a member of Fighting Squadron (VF) 26, which was normally attached to USS Sangamon (CVE 26).
His wife was listed as next of kin.
Silver Star
From Hall of Valor:
The President of the United States of America takes pride in presenting the Silver Star (Posthumously) to Lieutenant David Henshaw Pope (NSN: 0-82732), United States Navy, for conspicuous gallantry and intrepidity while participating in an aerial flight as Pilot of a plane of Escort Fighting Squadron TWENTY-SIX (VF-26), attached to the U.S.S. SANGAMON (CVE-26), during the assault on and occupation of French Morocco from 8 November to 11 November 1942. Lieutenant Pope distinguished himself by a meritorious display of superb airmanship on the afternoon of 10 November 1942, when as Commander of a Division of Fighter Aircraft, he participated in an attack which resulted in a complete rout of hostile tanks. In the face of heavy anti-aircraft fire, he pressed home devastating bombing and strafing attacks from low altitudes, contributing materially to the success of the mission. Throughout hostilities, Lieutenant Pope conducted himself in a manner deserving great credit and showed initiative and sound leadership as a Division Leader. The repeated demonstrations of leadership, aggressiveness and airmanship described were of the highest order and reflect great credit upon the United States Naval Service.

General Orders: Commander in Chief Atlantic: Serial 00160 (March 24, 1943)
Action Date: November 8 - 11, 1942
Service: Navy
Rank: Lieutenant
Company: Fighting Squadron 26 (VF-26)
Division: U.S.S. Sangamon (CVE-26)
Memorial Hall Error
One source lists David as a LCDR; he is listed elsewhere, including Memorial Hall, as a LT. Posthumous promotion?