PAUL V. THOMPSON, LCDR, USN
From USNA Virtual Memorial Hall
Birthdate & Date of Loss
| | |
| --- | --- |
| Date of birth: | unknown |
| Date of death: | June 29, 1945 |
| Age: | unknown |
Lucky Bag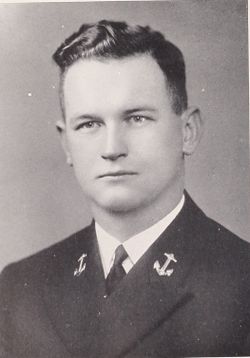 From the 1940 Lucky Bag:
PAUL VANCE THOMPSON

San Francisco, California

From the shores of the broad Pacific, near our fleet base, with a heritage reaching back to grizzled British sea-captains, Tommy reached us determined to become a hairy-chested, deep-lungedman-of-war'sman. Tommy is acclaimed by all as the advisor on Bull, and by more than one as counsellor on heart problems. He changes with the tide, a rugged hombre or a polished gentleman. Both a savoir and a striper, his only crime is his continual flow of letters — from whom? — let it suffice to say his love life is well covered in the newspapers. With a keen interest in all things naval, he offers to the Navy — a MAN.
Loss
Kelly was lost in an "operational aircraft loss" in the Pacific on June 29, 1945.
His wife was listed as next of kin.
Via the California Digital Newspaper Collection, the Coronado Eagle and Journal of July 19, 1945:
Commander Thompson Killed in Pacific

Mrs. Paul V. Thompson has just received word that her husband, Lt. Comdr. Paul V. Thompson, USN, was killed in a plane crash June 29. Lieutenant Commander Thompson, who was in the Class of 1940 at the Naval Academy, was an air group commander in the Pacific war zone. In addition to his wife who lives at 681 Margarita, he is survived by a son, Paul, Jr.
Distinguished Flying Cross
From Hall of Valor:
(Citation Needed) - SYNOPSIS: Lieutenant Commander Paul V. Thompson (NSN: 0-85345), United States Navy, was awarded the Distinguished Flying Cross for extraordinary achievement while participating in aerial flight during World War II.

General Orders: American Battle Monuments Commission
Action Date: World War II
Rank: Lieutenant Commander