FRASER S. KNIGHT, LCDR, USN
From USNA Virtual Memorial Hall
Birthdate & Date of Loss
| | |
| --- | --- |
| Date of birth: | April 17, 1917 |
| Date of death: | July 14, 1945 |
| Age: | 28 |
Lucky Bag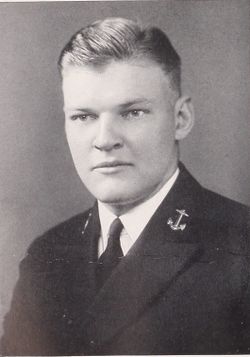 From the 1940 Lucky Bag:
FRASER SINCLAIR KNIGHT

Miami, Florida

Florida and the Capitol City alike lay claim to this tall, blond specimen of agreeable manhood. Fraser, the man who has never been known to hurry, has truthfully philosophized, "You have rushed all your life, and I have taken my time, and here we are in the exact same spot." Crew has claimed the "Colonel's" energies these four years, but it is of the long fairways and sparkling greens that he fondly dreams. The best of roommates and of friends, with a supreme sense of humor accompanied by a ready wit, we confidently send him on his way amid our sincere hopes of a lifetime of "Good shooting!"
Loss
Fraser was lost when USS Bonefish (SS 223) was sunk by Japanese surface forces in Toyama Wan on June 19, 1945.
His wife was listed as next of kin.
Wartime Service
The deck log of USS Salt Lake City (CA 25) "Detached Knight, Fraser S., Lt. to proceed and report to C. O. Submarine Base, New London, Conn. for temporary duty under instruction in submarines." on May 9, 1943.
Silver Star
From Hall of Valor:
(Citation Needed) - SYNOPSIS: Lieutenant Commander Fraser S. Knight (NSN: 0-85289), United States Navy, was awarded the Silver Star (Posthumously) for gallantry in action as Assistant Approach Officer of the U.S.S. BONEFISH (SS-223), during the SIXTH War Patrol of that vessel in enemy Japanese controlled waters of the Pacific, from 5 September to 8 November 19445. Lieutenant Commander Knight materially assisted his commanding officer in sinking three enemy ships totaling 22,000 tons and damaged two additional vessels totaling 8.900 tons.

General Orders: Bureau of Naval Personnel Information Bulletin No. 368 (October 1947)
Action Date: September 5 - November 8, 1944
Rank: Lieutenant Commander
He has a memory marker in Arlington National Cemetery; this also cites him as a recipient of the Bronze Star.