KENNETH D. NORTON, LTJG, USN
From USNA Virtual Memorial Hall
Lucky Bag
From the 1967 Lucky Bag:
Loss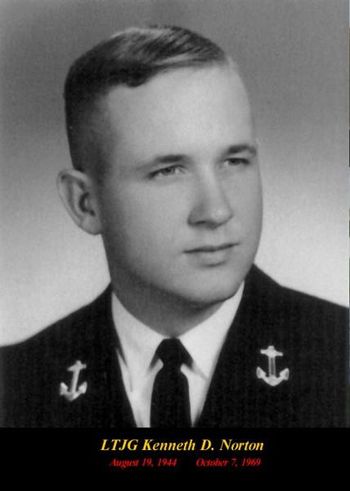 From the December 1969 issue of Shipmate:
Lt.(jg) Kenneth D. Norton, USN, was killed in action 7 Oct. when the boat he was in was ambushed on the Troung Yang, South Vietnam.

Lt(jg) Norton was born in Hutchinson, Kan., and attended Columbian Preparatory School before he entered the Naval Academy. A member of the Ninth Company at the Academy, he was graduated in June 1967 and reported to the USS Brownson. Stationed in Vietnam, Lt.(jg) Norton was attached to Coastal Division 12 at the time of his death.

Survivors include his parents, Cdr. Leroy G. Norton, USN (Ret.), and Mrs. Norton of Box 306, Lady Lake, Fl., 32659.
From Swift Boat Sailors Memorial:
On the afternoon of 7 October, while on normal Sea Tiger patrol, PCF's 61 and 69 were destroying fishing wiers on the Truong Giang River about 17 miles southeast of Danang (BT 188 487) when they received heavy semi-automatic (S/A) weapons fire. The "Swift" boats withdrew to the northwest and saturated the area with 81mm mortars and then made a .50 caliber strafing run on the enemy positions. After rearming both units proceeded north to exit the Truong Giang River when they received heavy automatic weapons, semi-automatic and 57mm recoilless rifle fire from bunker positions. In the general hail of fire, the helmsmen, Officer-in-Charge of PCF 61, LTJG Kenneth Dean NORTON, USN, 717895/1100, was killed and PCF 61 ran hard aground while traveling at full speed. At the same time, both "Swift" boats received 57mm R/R rounds close aboard resulting in minor damage to PCF 69 and punctured the port fuel tank of PCF 61 causing minor flooding. Both units suppressed the enemy fire. PCF 101, helo gunships and a "dustoff" helo arrived on the scene at 1310H. The helo gunships saturated the area with rocket and mini gun fire while LTJG NORTON was MEDEVACED. PCF's 69 and 101 pulled PCF 61 free at 1600H and proceeded without further incident to Coastal Group 14 headquarters, with the helo gunships providing cover. There were 20 structures destroyed in the operation. One U.S. sailor received a minor wound, was treated, and returned to duty. Enemy casualties are unknown. US Naval Forces Vietnam Monthly Summary for Oct 1969
He has a memorial.
Remembrances
From the Class of 1967's 50th Reunion Yearbook, courtesy of William Belden '67:
Eulogy (Delivered by Tim Hoffmann, 9th Company's 40th Reunion Memorial Service, 21 October 2007)

LTJG Kenneth Dean Norton, USN 19 August 1944 – 07 October 1969

If you ever needed a friend; you could count on him. He was always there, with a grin that could light up a room. Kenneth "Norts" Norton was born in Hutchinson, Kansas, but called the Navy "home." Navy through and through, Ken knew what he wanted and concentrated all of his efforts on becoming a Surface Warfare officer. He earned a Presidential appointment and spent a year at Columbian Preparatory, before raising his right hand on "I Day" and being sworn in as a member of the Class of 1967.

Ken's whole life to that point had been spent in preparation for the rigors of the Naval Academy. His year at Columbian Prep served him well and for the most part, Ken was able to take plebe year in stride. Extremely diligent, Ken found some of the calculus and chemistry courses especially challenging, but his determination and hard work paid off and he passed them with flying colors. While academics might have been difficult for Ken, when it came to friendship and generosity he was truly gifted. Leroy Farr, who roomed with Kenny, Plebe year, came from a very small, very rural town in Kansas. Before going to the Naval Academy he had never even been east of the Mississippi. Ken made a point of frequently inviting Leroy to his parent's home in New Jersey where CDR Norton was stationed. Kenny and his family opened their hearts and their home to Leroy and by doing so, became a second family to him that first year.

Remembered as an easy guy to get along with, popular and always smiling, Ken's interests ranged from parachuting to sports cars. One Sunday afternoon of First-Class year, Kenny drove Joel Heaton out to Laurel, Maryland, to pick up his brand new, illegal, Austin-Healy. Heading back to Annapolis with Joel in the lead, as they entered the beltway the driver ahead of Joel started to merge; then stopped. Joel, looking back to see when he could enter the highway, accelerated and rear ended the car ahead of him. The driver of the car Joel hit was an active duty Marine Corps Colonel! By the time they exchanged insurance information, it was getting late and the evening meal formation was fast approaching. Kenny never once thought about leaving Joel behind; instead, he took the lead as they sped all the way back to Colonial Motors on West Street. Joel threw his keys at the guy who had sold him the Healy and jumped in Kenny's car. Kenny parked on the street near St. John's and they undressed as they ran through the St. John's Yard.

Plebe training kicked in as they got into uniform and slid into formation with about 20 seconds to spare. As they turned and marched off, Joel remembers seeing Kenny's round, red face, totally amused by the close call, grinning from ear to ear. Joel thought that his life was in ruins, but all he had to do was look at Kenny's grin, to make him smile and realize that everything would be all right.

John Clevenger was Kenny's roommate during the Spring Set in '67 and remembers the morning Kenny discovered that he had Bell's Palsy on the left side of his face. He put up with having to sleep with one eye open and speaking out of one side of his mouth, but the thing that irritated him the most was that he could only smile on the right side of his face. To fix the problem, five Plebes held Kenny down while a rubber band with a partially opened paper clip was attached between his left ear and the left corner of his mouth. The contraption worked and even Kenny thought it was funny when everyone told him that he could chase women again because he now had a full smile.

After graduation, Ken was assigned to the USS Brownson, DD-868, stationed in Newport, Rhode Island. Frequently, he and I would hang out together at a watering hole called The Tavern. Upon becoming sufficiently primed toward the end of the evenings, we would hop into our rigs I had a '66 Vette and Ken had an XKE Jag; which we would race around ten-mile drive until sated. About that time, the Navy put out a desperate appeal for NFO backseat drivers and Swift Boat volunteers. Bored to tears with the jobs we currently had, Ken and I vowed to volunteer the very next day; me for NFO and Ken for Swift Boats. Justifiably proud of our decisions, we toasted each other a few more times and repaired to our respective vehicles to cap off the evening with our customary Tour de Newport. The next day, I woke up with a terrific hangover and trudged off to my boring job; all thoughts of glory forgotten in the booze fog. But Ken followed through and the rest is history.

One of Ken's closest friends at Patrol Fast Craft (Swift Boat) School was Elmo Zumwalt, III; eldest son of the incumbent CNO, Admiral Elmo Zumwalt, Jr. In his book, My Father, My Son, Elmo wrote about his friendship with Ken. Just before deploying to Vietnam in August of 1969, Ken told Elmo he had a premonition that he was not coming home alive. Ken said that if he was killed, he wanted Elmo to have his most prized possession his red, XKE Jaguar. Elmo chalked up Ken's request to "pre-deployment jitters," but promised to take care of the Jag for him.

In September of 1969, John Clevenger had a chance meeting with Kenny in Chu Lai, South Vietnam. John was flying off the carrier Oriskany in the Tonkin Gulf and unable to return to the ship was bingoed to the Marine Airbase at Chu Lai. While having a beer at the O'Club bar, John discovered that Kenny was assigned to Chu Lai and got a ride over to the Swift Boat dock. At the Swift Boat headquarters hut, he found out that Kenny was headed in with a suspected Viet Cong prisoner. When Kenny showed up, John couldn't believe his eyes. There was his former roomie in old, beat-up tennis shoes, cut-off jeans and a sleeveless t-shirt accessorized with a bushy Fu Manchu mustache, baseball cap, a holstered 9mm pistol on his right hip and a survival knife on his left hip!

Kenny invited John to join him and his crew of five enlisted men for the remainder of the night's patrol. John still remembers the excitement of riding on the "thoroughbred" of the Navy as Kenny's "Swiftie" sped through the open water of the bay near Chu Lai. Fortunately for John, the rest of the night was uneventful and the next morning, Norts drove him back to his aircraft in a jeep. Little did they know, as they shook hands and said good-bye to each other; that it would be for the last time.

After arriving in Vietnam, Ken was assigned as the Officer-in-Charge of Patrol Craft Fast 61. On the afternoon of October 7, 1969, PCF's 61 and 69 were destroying fishing weirs on the Troung Giang River about 17 miles southeast of Da Nang. Suddenly, they were ambushed from the shore and came under heavy, semi-automatic weapons and artillery fire. Both Swift boats withdrew to the northwest and saturated the area with mortars and strafing runs on the enemy positions. Ken was at the helm of his boat and in the hail of gunfire, a ricocheting bullet struck him in the head, killing him instantly. Mortally wounded, Ken slumped over the helm and the boat ran hard aground into the river bank. His crew continued to fight and both Swift Boats suppressed the enemy fire. Helo gunships arrived on the scene and saturated the area with rocket and mini gun fire while Ken was medevaced. A single, stray bullet had found its mark and the smile that could light up a room was extinguished forever.

John Fitzgerald Kennedy said, "A nation reveals itself not only by the men it produces but also by the men it honors, the men it remembers." Kenny is now on eternal duty with the fifty-eight thousand souls of his generation, who answered their country's call to duty and made the ultimate sacrifice. Their spirits now reside in the most hallowed memorial of our time The Vietnam Wall.

On panel 17W, Line 48 let your fingers trace the letters K-e-n-n-e-t-h-D-e-a-n-N-o-r-t-o-n, etched in the cool, polished granite. Think about the last time you saw Kenny and as you stare into the black, mirrored surface of the stone, you can see him smiling back at you.
From Wall of Faces
We never had time to meet
I was born the day you were buried at sea. My father said hello to me and goodbye to you on the same day. I am honored to have been given your name and I thank you dearly for your service. To my uncle, thank you. KENNETH DEAN NORTON II, KENNORTON@LIVE.COM, September 21, 2017
Related Articles
Gary Holtzclaw '67 and Alfred Mcglothlin '67 were also in 9th Company.
Kenneth is one of 34 members of the Class of 1967 on Virtual Memorial Hall.
The "category" links below lead to lists of related Honorees; use them to explore further the service and sacrifice of the alumni in Memorial Hall.