KENNETH D. NORTON, LTJG, USN
From USNA Virtual Memorial Hall
Lucky Bag
From the 1967 Lucky Bag:
Loss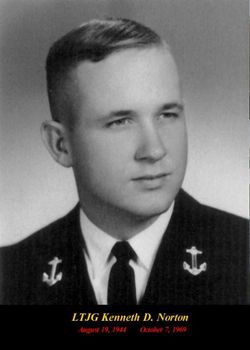 From the December 1969 issue of SHIPMATE:
Lt.(jg) Kenneth D. Norton, USN, was killed in action 7 Oct. when the boat he was in was ambushed on the Troung Yang, South Vietnam.

Lt(jg) Norton was born in Hutchinson, Kan., and attended Columbian Preparatory School before he entered the Naval Academy. A member of the Ninth Company at the Academy, he was graduated in June 1967 and reported to the USS Brownson. Stationed in Vietnam, Lt.(jg) Norton was attached to Coastal Division 12 at the time of his death.

Survivors include his parents, Cdr. Leroy G. Norton, USN (Ret.), and Mrs. Norton of Box 306, Lady Lake, Fl., 32659.
From Swift Boat Sailors Memorial:
On the afternoon of 7 October, while on normal Sea Tiger patrol, PCF's 61 and 69 were destroying fishing wiers on the Truong Giang River about 17 miles southeast of Danang (BT 188 487) when they received heavy semi-automatic (S/A) weapons fire. The "Swift" boats withdrew to the northwest and saturated the area with 81mm mortars and then made a .50 caliber strafing run on the enemy positions. After rearming both units proceeded north to exit the Truong Giang River when they received heavy automatic weapons, semi-automatic and 57mm recoilless rifle fire from bunker positions. In the general hail of fire, the helsmen, Officer-in-Charge of PCF 61, LTJG Kenneth Dean NORTON, USN, 717895/1100, was killed and PCF 61 ran hard aground while traveling at full speed. At the same time, both "Swift" boats received 57mm R/R rounds close aboard resulting in minor damage to PCF 69 and punctured the port fuel tank of PCF 61 causing minor flooding. Both units suppressed the enemy fire. PCF 101, helo gunships and a "dustoff" helo arrived on the scene at 1310H. The helo gunships saturated the area with rocket and mini gun fire while LTJG NORTON was MEDEVACED. PCF's 69 and 101 pulled PCF 61 free at 1600H and proceeded without further incident to Coastal Group 14 headquarters, with the helo gunships providing cover. There were 20 structures destroyed in the operation. One U.S. sailor received a minor wound, was treated, and returned to duty. Enemy casualties are unknown. US Naval Forces Vietnam Monthly Summary for Oct 1969
Remembrances
From Wall of Faces
We never had time to meet
POSTED ON I was born the day you were buried at sea. My father said hello to me and goodbye to you on the same day. I am honored to have been given your name and I thank you dearly for your service. To my uncle, thank you. KENNETH DEAN NORTON II, KENNORTON@LIVE.COM, September 21, 2017
Related Articles
Gary Holtzclaw '67 and Alfred Mcglothlin '67 were also in 9th Company.
Kenneth is one of 34 members of the Class of 1967 on Virtual Memorial Hall.