LLOYD K. WYATT, JR., 2LT, USMC
From USNA Virtual Memorial Hall
Birthdate & Date of Loss
| | |
| --- | --- |
| Date of birth: | July 21, 1922 |
| Date of death: | June 14, 1945 |
| Age: | 22 |
Lucky Bag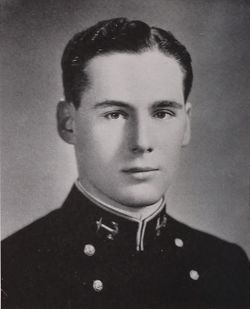 From the 1945 Lucky Bag:
Lloyd Kirk Wyatt, Jr.

Peoria, Illinois

"Bud" came to the Academy from Peoria, Illinois, via Dartmouth College. Dividing his time, he could always be depended upon to do well, whether it was in academics (neglecting plebe steam!), having a 4.0 drag for a weekend, or scoring points for the Company basketball team.

During first class year "Bud" followed the football team as a leading member of the Press Detail. His conscientiousness while Company Commander and while working on the Lucky Bag have won him many friends, as has his unassuming and pleasant manner.

Heading for a commission in the Marine Corps, Bud will soon be a "fightin' gyrene." Serious, quiet, and modest, we all like and respect him, and look forward to his companionship in the future.

Track 4; Press Detail 3, 1; Lucky Bag, Company Representative 1.
He was the commander of 8th Company (2nd set).
The Class of 1945 was graduated in June 1944 due to World War II. The entirety of 2nd class (junior) year was removed from the curriculum.
Obituary
From Find A Grave:
Lt. Wyatt was killed in action on the Island of Okinawa, but his body was "Missing" for 40 years.

He is the son of Dr. Lloyd K. & Mrs. Lucille J. Wyatt of Peoria, Illinois, and Flushing, New York, and his Grandfather was a Doctor, and both families are buried near each other at Springdale Cemetery in Peoria.

Lt. Wyatt is a 1940 graduate of Peoria H.S., earned a scholarship to Dartmouth College, and is a June 7, 1944 graduate of the Naval Academy, and married a Miss Rosemary Boiseau in Washington D.C. on June 8, 1944.

He has one other brother, Richard "Dick" Wyatt who was a waist gunner on B-29s.
Bud's remains were interred in Arlington National Cemetery on December 2, 1992.
Related Articles
Conrad Grove, Jr. '45, Arthur Day '45, Robert Billings '45, James Dawley, Jr. '45, Jack Flanagan '45, Alfred Sawyer '45, Richard Hodsdon '45, and John Horn '45 were also in 8th Company.