MANNERT L. ABELE, LCDR, USN
From USNA Virtual Memorial Hall
Date of birth: July 11, 1903
Date of death: July 30, 1942
Age: 39
Lucky Bag
From the 1926 Lucky Bag:
Loss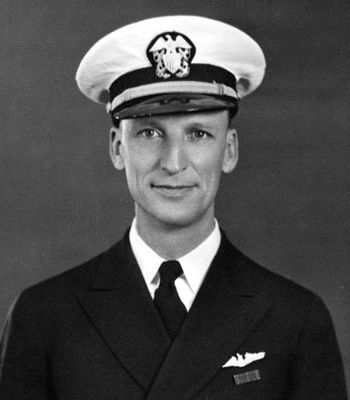 Abe was lost when USS Grunion (SS 216) was sunk by the armed Japanese freighter Kano Maru on July 30, 1942, approximately 10 miles northeast of Kiska in the Aleutian Islands. He was the boat's commanding officer.
His wife was listed as next of kin; he was also survived by three sons. His sons found their father's boat in 2007.
He has a memory marker in Arlington National Cemetery.
Career
From Fleet Organization:
Captain USS R-13 (SS-90) 30 May 1936 - 31 May 1939
Instructor NROTC Unit Harvard University 1 Oct 1939 - 1 Jul 1940
Captain USS S-31 (SS-136) 24 Sep 1940 - 31 Oct 1941
Captain USS Grunion (SS-216) 11 Apr 1942 - Jul 1942
Lieutenant 30 Jun 1936
Lieutenant Commander 1 Dec 1940
From Hall of Valor:
The President of the United States of America takes pride in presenting the Navy Cross (Posthumously) to Lieutenant Commander Mannert Lincoln Abele (NSN: 0-60162), United States Navy, for extraordinary heroism in the line of his profession as Commanding Officer of the U.S.S. GRUNION (SS-216), during its FIRST War Patrol, in Alaskan Waters. Lieutenant Commander Abele conducted an aggressive and successful submarine war patrol from 30 June 1942 to 24 July 1942. He pressed home all attacks in such a skillful and resolute manner that he attacked and sank in one day, three enemy destroyers of the Towlekju Class. Despite severe anti-submarine measures, Lieutenant Commander Abele brought his ship safely through these counter attacks but was subsequently lost from an unknown cause. His courage and devotion to duty were in keeping with the highest traditions of the Naval Service. He gallantly gave his life for his country.

General Orders: Commander In Chief Pacific Fleet: Serial 25 (November 23, 1942)
Service: Navy
Rank: Lieutenant Commander
Namesake
USS Mannert L. Abele (DD 733) was named for Abe; the ship was sponsored by his widow.
Mannert is one of 36 members of the Class of 1926 on Virtual Memorial Hall.
The "category" links below lead to lists of related Honorees; use them to explore further the service and sacrifice of the alumni in Memorial Hall.