PETER R. MAITLAND, CAPT, USMC
From USNA Virtual Memorial Hall
Lucky Bag
From the 1955 Lucky Bag: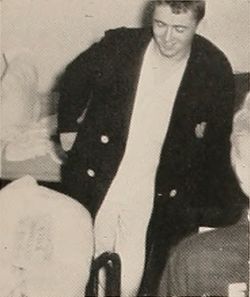 Loss
From A-4 Skyhawk:
Pete Maitland got a cold cat into the water during the carrier quals of VMA 324. He was on a maint hop with 9400 # of fuel, The ship was launching 324 with no more than 7300#. They launched him at the lower weight and put him in the drink.
Pete was lost on October 17, 1960; he was operating from USS Coral Sea (CVA 43).
Related Articles
Bill Litznberg '55 was also on the 150 Pound Football team.
Edward St. George '55 also graduated Bullis School in Potomac, MD.
Peter is one of 34 members of the Class of 1955 on Virtual Memorial Hall.