ROBERT W. CABANISS, CDR, USN
From USNA Virtual Memorial Hall
Lucky Bag
From the 1906 Lucky Bag:
Loss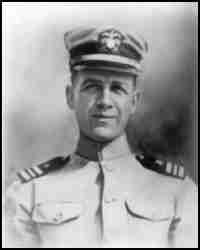 Robert was lost on March 31, 1927 when the PN-9 seaplane he was aboard crashed near Navassa Island, West Indies.
He was naval aviator #36.
He was survived by his wife and is buried in Alabama.
Biography
From Early Aviators:
The Class of 1906
United States Naval Academy
published 1954

Robert Wright Cabaniss

Born 3 January, 1884, Union Springs, Alabama. Appointed from Alabama.

After graduation Cabaniss served on the Asiatic Station and on the Pacific Coast until 1915, when he took flight training at Pensacola and became qualified Naval Aviator No. 36.

During World War I, he had duty at the Naval Air Station, Pensacola; command of the aviation detachment at Massachusetts Institute of Technology; and in 1918, he was overseas in Paris. later he commanded the NAS, Moutchie-Lacanau; then served at Pauillac and at Bordeaux.

After the war, he commanded NAS, Rockaway Beach, Long Island; had duty at NAS, Pensacola; in 1921, Executive Officer, aircraft tender, USS Wright; and in 1926, he took command of the aircraft tender, USS Aroostook. While on this duty he was killed in the crash of a PN-9 plane he was flying on 31 March, 1927, near Navassa Island in the West Indies. He was then in the rank of Commander. Cabaniss Field, commissioned at the NAS, Corpus Christi, Texas, on 9 July, 1941, was named in his honor.

SPECIAL AWARD; Order of the Bust of Bolivar (Venezuela).
WIFE: Martha Cabaniss, Coronado, California.
DAUGHTER: Juliet Harmon Cabaniss (wife of Lt. A.D.A. Crawford, Jr., USNR).
He was commanding officer of USS Aroostook (CM 3) from 1926 to March 1927.
Namesake
Cabaniss Field, an outlying airfield of NAS Corpus Christi, is named for Robert.
Robert is one of 8 members of the Class of 1906 on Virtual Memorial Hall.