WILLIAM A. ROGERS, JR., ENS, USN
From USNA Virtual Memorial Hall
Lucky Bag
From the 1948-B Lucky Bag: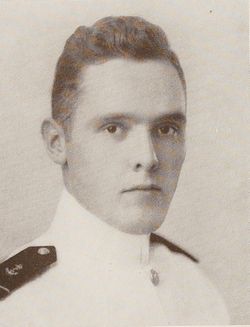 WILLIAM A. ROGERS, JR.

BOSTON, MASSACHUSETTS

Coming to the Academy from Beacon Street via Severn School . . . had the jump on the boys before we joined the Regiment . . . the great advantage of being acclimated to these environs . . . managed to outdrag the 1/c 4/c year . . . served an arduous plebe year in the old 20th . . . became the most efficient dope messenger ever to carry the hot to the fabulous Joe "Stationery" Small. In athletics Will managed to roll up the points for his company boxing team . . . lead the harriers around Hospital Point until 1/c year when he found No. 2 gate too inviting ... in the field of higher learning Mellon Head showed the way . . . kept his nose to the grindstone . . . never letting Navy get the upper hand . . . even Lunk Head and Hot Lead Eddie couldn't bush him in Juice . . . helping buckets a daily occupation . . . No. 4 in Math and 25 in the class. Happy hours were generally spent in Barook's chamber in friendly games with the boys. Leave rolled around . . . the parade to Yankee land began . . . with bag in hand and buddies in tow . . . Will was off with a will to have a good time. One by one the boys met their respective podunks . . . the last man off thoughtfully left a sign on Will . . . Please unload at Back Bay. Always had the reputation for a high old time on leave ... a great guy to have on a party ... or in a tight spot.
Will graduated from the 19th Company with the class of 1948-B in June 1948. (The top half of the class academically, designated 1948-A, graduated in June 1947 as the last wartime-accelerated class.)
Loss
From The Townsman, Wellesley, Mass., on January 20, 1949:
Ens. William Rogers, Former Of Wellesley, Killed In Plane Crash

Ensign William Alexander Rogers, Jr., USN, 22, son of Dr. and Mrs. William A. Rogers, former of Bradford road, Wellesley Hills, was one of two students at the Naval air training school at Pensacola, Florida, who were killed on January 17 when their plane went into a spin and crashed while they were attempting to land at Holly Field near the training station.

His companion was Ensign Guy Francis Lewis of Highland Falls, NY, an instructor. Officers aid it was the first fatal crash at the school since March of last year; studetns have flown 215,000 hours since that time.

Ensign Rogers, who was born in Boston (where his father staill has offices on Commonwealth avenue), attended the Brown School in Wellesley Hill, also Newton Country Day School, Browne and Nichols school and the Severn School in Maryland.

He was graduated from Annapolis last June and was married last month in Kentucky.

Besides his bride of three weeks, and his parents, Ensign Rogers is survived by a brother, Forbes, a student at the Emerson School in Exeter, and a sister, Helen, who is married and living in Lincoln.
He is buried in Arlington National Cemetery.
Related Articles
Hubert Loheed '48 is on the same page of the 1948-B Lucky Bag, which was organized by state.