HUGH H. GOODWIN, JR., ENS, USN
From USNA Virtual Memorial Hall
Date of birth: unknown
Date of death: August 4, 1949
Age: unknown
Lucky Bag
From the 1948 Lucky Bag: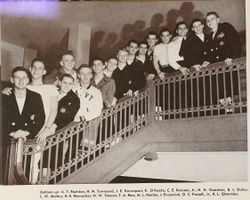 Loss
From "The White House Doctor: My Patients Were Presidents: A Memoir" by Connie Mariano, a story of her father, a Navy steward:
My father's favorite admiral, as mentioned earlier, was Vice Admiral Goodwin, who in retrospect was a father figure to him. The Goodwin family was picture-perfect: the dashing, well-decorated three-star admiral; his sophisticated wife, Eleanor; their bright and articulate daughter, Sydney; and their handsome young son, Hugh Jr., a Navy pilot. Their perfect life, however ,was shattered one evening at dinnertime when my father took a phone call from Navy headquarters. Hugh Jr. had been killed when his plane collided with another plane during operations off an aircraft carrier at sea. The tragedy was ironic in that the other pilot killed was also the son of a Navy admiral who, like the vice admiral, had flown numerous missions unharmed in wartime. Both admirals lost their only sons on a routine mission in peacetime.
USNA 1948's operational loss list places his death on August 4, 1949.
Other
Hugh's loss is a mystery — cannot find any records except for the re-telling above. Furthermore, cannot find many details on his father, Vice Admiral Hugh H. Goodwin. VADM Goodwin's wife was Eleanor Welty Goodwin; their daughter was Sidney Mary Goodwin (married George Marshall Brown).
Related Articles
Harley Harris, Jr. '48 was also in 11th Company.