HUGH H. GOODWIN, JR., ENS, USN
From USNA Virtual Memorial Hall
Lucky Bag
From the 1948 Lucky Bag: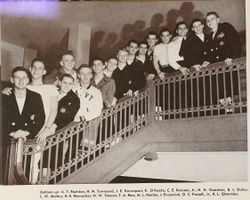 Loss
Hugh was lost on August 4, 1949, when the Hellcat he was piloting collided with another over the Gulf of Mexico during training. The Class of 1922 column in the October 1949 issue of Shipmate said he was "so near to the completion of his flight training that he will be awarded a posthumous designation as a Naval Aviator."
From "The White House Doctor: My Patients Were Presidents: A Memoir" by Connie Mariano, a story of her father, a Navy steward:
My father's favorite admiral, as mentioned earlier, was Vice Admiral Hugh Goodwin Sr., who in retrospect was a father figure to him. The Goodwin family was picture-perfect: the dashing, well-decorated three-star admiral; his sophisticated wife, Eleanor; their bright and articulate daughter, Sydney; and their handsome young son, Hugh Jr., a Navy pilot. Their perfect life, however, was shattered one evening at dinnertime when my father took a phone call from Navy headquarters. Hugh Jr. had been killed when his plane collided with another plane during operations off an aircraft carrier at sea. The tragedy was ironic in that the other pilot killed was also the son of a Navy admiral who, like the vice admiral, had flown numerous missions unharmed in wartime. Both admirals lost their only sons on a routine mission in peacetime.
Hugh Jr. was survived by his parents and his sister, Sidney Mary Goodwin (married George Marshall Brown).
He is not listed in the Register of Commissioned and Warrant Officers of the United States Navy and Marine Corps of April 1, 1949 for some reason. Have been unable to find the 1948 edition.
Other
From "The Men of the Gambier Bay:"
Prior to being elevated to the rank of Vice Admiral then Captain Hugh Goodwin Sr. became the commanding officer of the escort carrier USS Gambier Bay CVE-73 when the ship was commissioned at Astoria, Oregon on 28 December 1943,. He conducted sea trials of the ship and saw the ship's first and only squadron VC-10 come aboard.

His son Hugh Goodwin Jr. visited him aboard ship to learn the ropes of a commanding officer and observe flight operations from the bridge of the Gambier Bay.
Related Articles
Harley Harris, Jr. '48 was also in 11th Company.
Hugh is one of 46 members of the Class of 1948 on Virtual Memorial Hall.