HUGH H. GOODWIN, JR., ENS, USN
From USNA Virtual Memorial Hall
Birthdate & Date of Loss
| | |
| --- | --- |
| Date of birth: | unknown |
| Date of death: | August 4, 1949 |
| Age: | unknown |
Lucky Bag
From the 1948-B Lucky Bag:
HUGH HILTON GOODWIN, JR.

SAN FRANCISCO, CALIFORNIA

A world of our Navy blue and gold has always been a dream world to Hugh . . . a Navy Junior . . . raised under the plebe system he will only be happy in the Navy carrying out his greatest ambition ... to be a successful Naval officer. Plebes stormed his room for extracurricular instruction . . . asking questions and getting help...or just listening to his radio. It did not take them long to learn that this remarkable lad . . . never without his U.S.N.A.R. pocket edition . . . was a walking Knight's Seamo and Bluejackets Manual all rolled into one. A hunter ... a fisherman ... a great advocate of the Golden State . . . and if not actually a woman-hater ... at least a Red Mike. Has a keen sense of right and wrong ... a clear understanding of truth and fairness which will win for him great respect and admiration in the future. Youngster cruise taught him what the floating Navy was like . . . second class cruise proved his convictions about there being only one real Navy . . . the one with wings . . . first class cruise verified his beliefs. When there was free time and good weather that fellow with the wicked serve . . . the curly black hair and dark sun tan was Hugh. He could always give the better tennis players a good workout.
He graduated from the 11th Company with the class of 1948-B in June 1948. (The top half of the class academically, designated 1948-A, graduated in June 1947 as the last wartime-accelerated class.)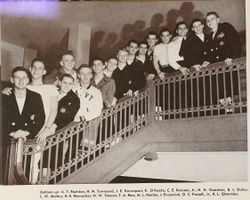 Loss
From "The White House Doctor: My Patients Were Presidents: A Memoir" by Connie Mariano, a story of her father, a Navy steward:
My father's favorite admiral, as mentioned earlier, was Vice Admiral Goodwin, who in retrospect was a father figure to him. The Goodwin family was picture-perfect: the dashing, well-decorated three-star admiral; his sophisticated wife, Eleanor; their bright and articulate daughter, Sydney; and their handsome young son, Hugh Jr., a Navy pilot. Their perfect life, however ,was shattered one evening at dinnertime when my father took a phone call from Navy headquarters. Hugh Jr. had been killed when his plane collided with another plane during operations off an aircraft carrier at sea. The tragedy was ironic in that the other pilot killed was also the son of a Navy admiral who, like the vice admiral, had flown numerous missions unharmed in wartime. Both admirals lost their only sons on a routine mission in peacetime.
USNA 1948's operational loss list places his death on August 4, 1949.
Other
Hugh's loss is a mystery — cannot find any records except for the re-telling above. Furthermore, cannot find many details on his father, Vice Admiral Hugh H. Goodwin. VADM Goodwin's wife was Eleanor Welty Goodwin; their daughter was Sidney Mary Goodwin (married George Marshall Brown).
Related Articles
Harley Harris, Jr. '48 was also in 11th Company.