HARLEY S. HARRIS, JR., LTJG, USN
From USNA Virtual Memorial Hall
Lucky Bag
From the 1948-B Lucky Bag: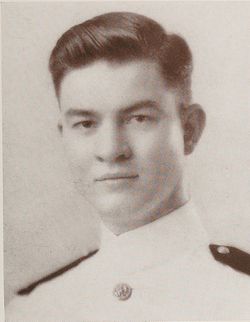 HARLEY STAFFORD HARRIS, JR.

MAYWOOD, CALIFORNIA

Harley is one of those Sunkist lads. Obviously the United States is a small part of California . . . how else? Came to Navy from the Fleet ... if you can call a tug boat operating in Frisco harbor part of the Fleet ... he does. Tall tales flew thick and thin when Harley took up his preparation for the Academy . . . branded the slush-barge sailor ... he wore his title graciously . . . the slush wasn't so had hut the liberty they forced on me every night was an ordeal. An amiable grin and pleasant disposition won him a following of friends. When another hand was needed at poker . . . when a baseball team was in the making ... or when a drinking buddy was needed . . . Harley was always there. Always the rugged outdoorsman . . . Harley faithfully scrutinizes his Field and Stream with an interest found only in the sportsman. Summer leaves find Harris anywhere between Canada and Mexico ... in the mountains or on the shore . . . trying his luck with a rifle or fishing rod. Harley's mania is cowboy music . . . there being no other great music . . . however when Bing puts out with most anything his assertion weakens. That new-fangled invention . . . the automobile . . . just doesn't hold a shine to a horse for beauty . . . comfort . . . and all-round gettin' whar' you're goin' ability.
He graduated from the 11th Company as Company Commander. He graduated with the class of 1948-B in June 1948. (The top half of the class academically, designated 1948-A, graduated in June 1947 as the last wartime-accelerated class.)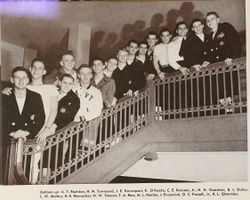 Loss
Harley was lost when the AD-4 Skyhawk he was piloting was shot down by small arms fire over Korea on June 28, 1951 during a strafing run. His squadron was operating from USS Princeton (CV-37).
Family
His wife, Ann Works Harris, never remarried, and they had no children.
Related Articles
Hugh Goodwin, Jr. '48 was also in 11th Company.