HARLEY S. HARRIS, JR., LTJG, USN
From USNA Virtual Memorial Hall
Date of birth: July 22, 1924
Date of death: June 28, 1951
Age: 26
Lucky Bag
From the 1948 Lucky Bag: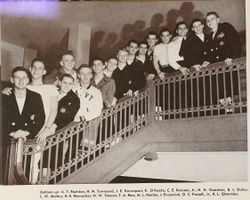 Loss
Harley was lost when the AD-4 Skyhawk he was piloting was shot down by small arms fire over Korea on June 28, 1951 during a strafing run. His squadron was operating from USS Princeton (CV 37).
Family
His wife, Ann Works Harris, never remarried, and they had no children.
Related Articles
Hugh Goodwin, Jr. '48 was also in 11th Company.
Harley is one of 46 members of the Class of 1948 on Virtual Memorial Hall.