BENJAMIN L. EDES, LCDR, USN
From USNA Virtual Memorial Hall
Lucky Bag
The Lucky Bag was first published in 1894.
Benjamin Long Edes was admitted to the Naval Academy from New York on September 23, 1861 at age 14 years 6 months.
Loss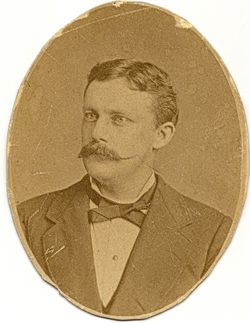 From "Dangers of Naval Life" by Arthur H. Dutton, former Lieutenant, U.S. Navy, in the January-June 1909 issue of "The Overland Monthly":
Lieutenant-Commander Benjamin Long Edes and Lieutenant Lyman G. Spalding were killed at Newport, R.I., August 29, 1881, by the explosion of a torpedo, due to mismanagement of an electric switch.
He was survived by his wife and two children. His wife was pregnant with their third child, but the child died in childbirth in December. Benjamin is buried in Washington, D.C.. He also has a a memory marker in Arlington National Cemetery.
Note: He is listed as "Benjamin Edes Long" in the Register of Alumni, as well as in 1861 Naval Academy Register.
Career
From the Naval History and Heritage Command:
Midshipman, 23 September, 1861. Graduated September, 1865. Ensign, 1 December, 1866. Master, 12 March, 1868. Lieutenant, 26 March, 1869. Lieutenant Commander, 22 April, 1881. Killed 29 August, 1881.
Related Articles
Lyman Spalding '66 was lost in this same incident.
Benjamin is one of 3 members of the Class of 1865 on Virtual Memorial Hall.