GEORGE W. DELONG, LCDR, USN
From USNA Virtual Memorial Hall
George Washington De Long was admitted to the Naval Academy from New York on October 1, 1861 at age 17 years 1 months.
Biography & Loss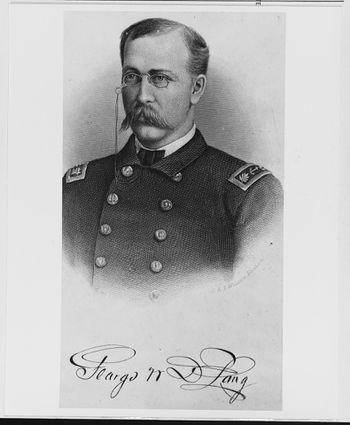 From the Naval History and Heritage Command:
George Washington DeLong was born in New York City on 22 August 1844. He graduated from the U.S. Naval Academy in 1865 and was assigned to the steam sloop Canandaigua. Subsequently promoted to the ranks of Ensign, Master and Lieutenant, he was an officer in USS Juniata during her 1873 voyage to Greenland in search of the missing exploration ship Polaris. Lieutenant DeLong later served as Executive Officer of the training ship Saint Mary's. His experiences on the Juniata convinced Lieutenant DeLong of the value of Arctic exploration, and he joined New York newspaper publisher James Gordon Bennett in planning an attempt to reach the North Pole in a ship specially strengthened to drift in the Arctic icepack.

Bennett purchased the British steam bark Pandora in 1878, renamed her Jeannette and turned her over to the U.S. Navy under the terms of a Congressional authorization to operate the ship, with Bennett bearing the costs. DeLong, who was to command the planned expedition, brought Jeannette from Europe to San Francisco, California, where she was refitted for ice navigation. In July 1879 he sailed for the Bering Strait, accompanied a crew of Navy officers and enlisted men plus a few civilian specialists. Jeannette entered the ice in early September and remained in its grip until June 1881, when she was broken open by its force and sank.

Lieutenant Commander DeLong then led his men on a heroic journey, of nearly three months duration, across the rugged ice to open water north of Siberia. There they launched the three boats that they had dragged along during their travels over the ice. One of the boats disappeared in a storm a few days later, its eight occupants becoming the expedition's first fatalities. The other two craft, including that commanded by DeLong, reached the Lena River Delta, where they landed at widely separated points. DeLong and his thirteen companions, suffering badly from frostbite, exhaustion and hunger, struggled southwards in an effort to find inhabitants. However, with exception of two men sent ahead to seek rescue, all died during October or the first few days of November 1881. The bodies of Lieutenant Commander George W. DeLong and nine of his men were discovered in March 1882 and, in early 1884, brought back to the United States for reburial.
From "Dangers of Naval Life" by Arthur H. Dutton, former Lieutenant, U.S. Navy, in the January-June 1909 issue of "The Overland Monthly":
Arctic exploration has claimed its victims in the navy as well as in civil life and the army. The deaths of Lieutenant Commander G.W. De Long and Lieutenant C.W. Chipp during the ill-fated Jeannette expedition of 1881, caused a profound sensation throughout the world, their tragic ends in the bleak Lena Delta region of Northern Siberia appealing strongly and deeply to the popular imagination.
George was survived by his wife and daughter. He has a memory marker in New York.
Career
From the Naval History and Heritage Command:
Midshipman, 1 October, 1861. Graduated 24 September, 1865. Ensign, 1 December, 1866. Master, 12 March, 1868. Lieutenant, 26 March, 1869. Lieutenant Commander, 1 November, 1879. Lost in the Arctic Regions, July, 1882. Jeannette.
Namesakes
USS DeLong (Torpedo Boat No. 28) was named for George; the ship was sponsored by his daughter. USS DeLong (Destroyer No. 129) was also named for him, and was sponsored by his granddaughter.
The De Long Mountains in Alaska are named for him, as are the De Long Islands in the East Siberian Sea.
The "Register of Commissioned and Warrant Officers of the United States Navy and Marine Corps" was published annually from 1815 through at least the 1970s; it provided rank, command or station, and occasionally billet until the beginning of World War II when command/station was no longer included. Scanned copies were reviewed and data entered from the mid-1840s through 1922, when more-frequent Navy Directories were available.
The Navy Directory was a publication that provided information on the command, billet, and rank of every active and retired naval officer. Single editions have been found online from January 1915 and March 1918, and then from three to six editions per year from 1923 through 1940; the final edition is from April 1941.
The entries in both series of documents are sometimes cryptic and confusing. They are often inconsistent, even within an edition, with the name of commands; this is especially true for aviation squadrons in the 1920s and early 1930s.
Alumni listed at the same command may or may not have had significant interactions; they could have shared a stateroom or workspace, stood many hours of watch together… or, especially at the larger commands, they might not have known each other at all. The information provides the opportunity to draw connections that are otherwise invisible, though, and gives a fuller view of the professional experiences of these alumni in Memorial Hall.
January 1864
Second Class Midshipman, Naval Academy
Others at this command: LCDR Marshall Campbell '56, MIDN 2/c Benjamin Edes '65, MIDN 1/c Charles Kennedy '65, MIDN 3/c George Totten '66, MIDN 2/c Hugh McKee '66, MIDN 3/c John Talbot '66, MIDN 3/c John Phelan '66, MIDN 3/c Lyman Spalding '66, MIDN 3/c Alfred Forée '67, MIDN 4/c Charles Brown '67, MIDN 4/c James Cowie '67, MIDN 4/c Jonathan Wainwright '67, MIDN 4/c Sydney Simons '67, and MIDN 1/c James Wight '71.
July 1870
Lieutenant, Lancaster
January 1871
Lieutenant, leave, Europe
January 1872
Lieutenant, ordered to Nantasket
January 1874
Lieutenant, Brooklyn
July 1877
Lieutenant, Nautical School-ship St. Mary's
July 1878
Lieutenant, leave of absence
July 1881
Lieutenant Commander, commanding officer, Arctic steamer Jeannette
Others at this command: LT Charles Chipp '68.
George is one of 4 members of the Class of 1865 on Virtual Memorial Hall.
The "category" links below lead to lists of related Honorees; use them to explore further the service and sacrifice of the alumni in Memorial Hall.