CORNELIUS M. SCHOONMAKER, CAPT, USN
From USNA Virtual Memorial Hall
Cornelius Schoonmaker '59
Lucky Bag
The Lucky Bag was first published in 1894.
Cornelius Marius Schoonmaker was admitted to the Naval Academy from New York on September 28, 1854 at age 15 years 7 months.
Biography & Loss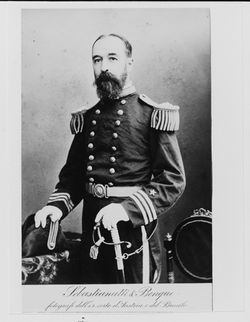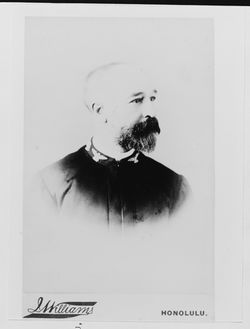 From the Naval History and Heritage Command:
Cornelius Marius Schoonmaker was born on 2 February 1839. He was appointed to the U.S. Naval Academy in September 1854 and, following graduation in June 1859, served for about two years off the African west coast. In May-September 1861, during the first several months of the Civil War, he was a junior officer on the steam frigate Minnesota and participated with her in the capture of Forts Hatteras and Clark. From late 1861 until after the end of the Civil War in 1865, Lieutenant Schoonmaker was Executive Officer of several ships, including the gunboats Wyandotte and Octorara, monitors Manhattan and Catskill, and the cruiser Augusta. While in the Manhattan, he took part in the Battle of Mobile Bay in August 1864 and in the subsequent campaign to capture Fort Morgan.

In June 1865, Lieutenant Schoonmaker became Navigator of the sloop Juniata and, after promotion to Lieutenant Commander, was her Executive Officer. In 1867-70, he served as Navigator of the Asiatic Squadron flagship, USS Piscataqua (renamed Delaware in 1869). He received instruction in the emerging field of "torpedo" warfare in 1872, then was given command of the dispatch vessel Frolic. Commander Schoonmaker served at the New York Navy Yard in 1873-74, and was Inspector of the Eighth Light-House District, at New Orleans, until 1878. He took command of the new gunboat Nipsic in 1879, taking her to European waters in 1880-81.

Schoonmaker was stationed at the Norfolk Navy Yard in 1882-85 and received promotion to the rank of Captain in October 1886. He became Commanding Officer of the steam sloop Vandalia, on the Pacific Station, in 1888. Captain Schoonmaker was among the many members of her company who lost their lives when Vandalia was sunk in the very destructive Apia, Samoa, hurricane of 15-16 March 1889.
He is buried in New York.
Career
From the Naval History and Heritage Command:
Acting Midshipman, 28 September, 1854. Midshipman, 9 June, 1859. Lieutenant, 31 August, 1861. Lieutenant Commander, 24 December, 1865. Commander, 14 February, 1873. Captain, 7 October, 1886. Drowned 15 March, 1889.
Related Articles
Francis Sutton '81 was also lost in this storm.
Cornelius is one of 5 members of the Class of 1859 on Virtual Memorial Hall.