HUGH W. MCKEE, LT, USN
From USNA Virtual Memorial Hall
Date of birth: April 23, 1844
Date of death: June 11, 1871
Age: 27
Lucky Bag
The Lucky Bag was first published in 1894.
Hugh Wilson McKee was admitted to the Naval Academy from Kentucky on September 25, 1861 at age 17 years 5 months.
Biography & Loss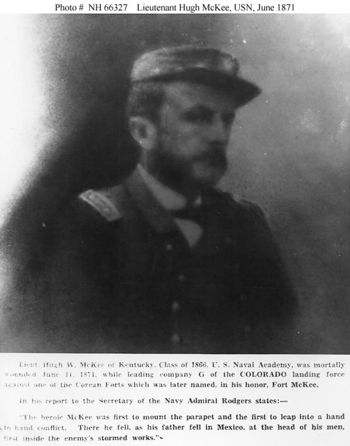 From Wikipedia:
McKee was born in Lexington, Kentucky to a military family. His father, William R. McKee, was a US Army colonel who had been killed in action commanding the Second Kentucky Regiment in the Battle of Buena Vista during the Mexican–American War.

Hugh McKee was appointed to the Naval Academy 25 September 1861 and graduated in 1866. His early duty stations included service in the Practice Squadron and aboard the USS Rhode Island, flagship of the North Atlantic Squadron. In 1867-1869, he was assigned to the steam frigate Franklin and steam sloop of war Ticonderoga, both operating in European waters. McKee was promoted to ensign in March 1868.

McKee had attained the rank of lieutenant by March 1870, and was serving in the Asiatic Squadron as an officer of the USS Colorado. He was mortally wounded 11 June 1871, while leading a company of bluejackets over the walls of a Korean fort on Ganghwa Island close by the Inchon beaches during the United States expedition to Korea. Fifteen sailors and Marines received the Medal of Honor for their actions during the battle including William F. Lukes, Alexander McKenzie, Samuel F. Rogers, and William Troy, who attempted to save McKee, as well as Frederick Franklin, who assumed command of McKee's company until relieved.

McKee died on board the USS Monocacy at 5:45 p.m. that afternoon and his body was sent to his ship, the Colorado, the next day. His remains were later sent to Shanghai and from there to the United States. He was interred at Lexington Cemetery. He never married and had no descendants.
Hugh is buried in Kentucky.
He is listed on the killed in action panel in the front of Memorial Hall under the heading "Korea Expedition 1871."
Career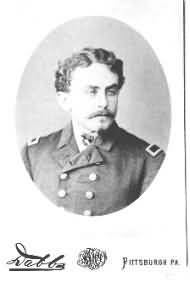 From the Naval History and Heritage Command:
Midshipman, 25 September, 1861. Graduated June, 1866. Ensign, 12 March, 1868. Master, 26 March, 1869. Lieutenant, 21 March, 1870. Killed in attack upon Corea, Japan, 11 June, 1871.
Namesakes
Three ships were named in honor of Hugh:
The "Register of Commissioned and Warrant Officers of the United States Navy and Marine Corps" was published annually from 1815 through at least the 1970s; it provided rank, command or station, and occasionally billet until the beginning of World War II when command/station was no longer included. Scanned copies were reviewed and data entered from the mid-1840s through 1922, when more-frequent Navy Directories were available.
The Navy Directory was a publication that provided information on the command, billet, and rank of every active and retired naval officer. Single editions have been found online from January 1915 and March 1918, and then from three to six editions per year from 1923 through 1940; the final edition is from April 1941.
The entries in both series of documents are sometimes cryptic and confusing. They are often inconsistent, even within an edition, with the name of commands; this is especially true for aviation squadrons in the 1920s and early 1930s.
Alumni listed at the same command may or may not have had significant interactions; they could have shared a stateroom or workspace, stood many hours of watch together… or, especially at the larger commands, they might not have known each other at all. The information provides the opportunity to draw connections that are otherwise invisible, though, and gives a fuller view of the professional experiences of these alumni in Memorial Hall.
January 1864
Second Class Midshipman, Naval Academy
Others at this command: LCDR Marshall Campbell '56, MIDN 2/c Benjamin Edes '65, MIDN 2/c George DeLong '65, MIDN 1/c Charles Kennedy '65, MIDN 3/c John Phelan '66, MIDN 3/c John Talbot '66, MIDN 3/c Lyman Spalding '66, MIDN 3/c George Totten '66, MIDN 4/c Charles Brown '67, MIDN 4/c James Cowie '67, MIDN 4/c Jonathan Wainwright '67, MIDN 3/c Alfred Forée '67, and MIDN 4/c Sydney Simons '67.
January 1866
First Class Midshipman, Naval Academy
Others at this command: MIDN 1/c John Phelan '66, MIDN 1/c John Talbot '66, MIDN 1/c Lyman Spalding '66, MIDN 1/c George Totten '66, MIDN 2/c Charles Brown '67, MIDN 2/c James Cowie '67, MIDN 2/c Jonathan Wainwright '67, MIDN 2/c Alfred Forée '67, MIDN 2/c Sydney Simons '67, and LCDR Alexander Crosman '55.
January 1869
Ensign, Ticonderoga
Hugh is one of 5 members of the Class of 1866 on Virtual Memorial Hall.
The "category" links below lead to lists of related Honorees; use them to explore further the service and sacrifice of the alumni in Memorial Hall.